Soup Style Winter Vegetable Curry
There are days when I feel lethargic to cook dinner during winter. All I want is to sip on hot soup but my Son does not like to have soup. So I invented this all in one winter curry which can suffice for a meal with two pieces of garlic bread or whole wheat bread. You can add chicken instead of Paneer to make a non vegetarian version. The secret ingredient is dried thyme leaves which is used as flavoring agent in soups. If you do not find it, then add some oregano.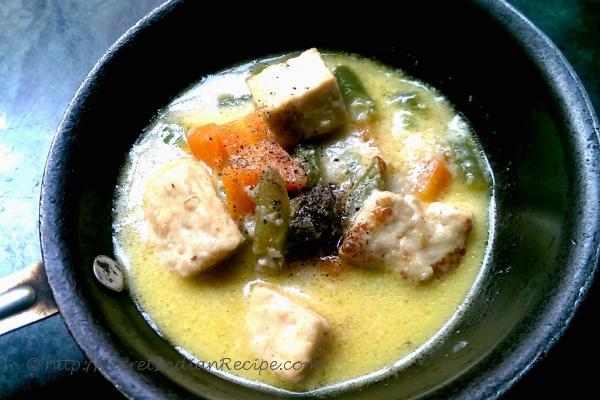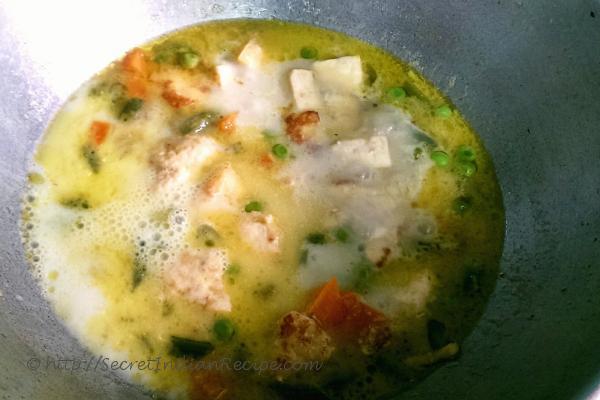 Ingredients:
Paneer (Cottage cheese) – 100 grams
Carrot – 1medum sized chopped in cubes
French Beans – 1/2 cup chopped
Green pea – ½ cup
Onion – 1 small sized
Ginger – 1/2inch piece
Garlic – 2-3 cloves
Green chilies – 1-2 as per taste
Dried thyme leaves – 1 teaspoon
Clove – 1
Cinnamon – 1 very small piece
Milk – ½ cup
Butter – 2 tablespoons + 2 tablespoon for serving
Salt and sugar to taste
Freshly grounded – black pepper powder as per taste
Directions:
Cut cottage cheese in small pieces and keep aside.
Make a paste of chilies, onion, ginger and garlic without any water.
Heat butter in a pan and add the crushed clove and cinnamon piece. As they start releasing their aroma, add the chili –onion - ginger- garlic paste.
Saute the masala over very low heat for 5 seconds. Sprinkle 1 tablespoon water and mix. Discard the cloves and cinnamon at this stage.
Add the chopped cottage cheese toss in the masala. Cook till the cottage cheese begins to brown.
Add other vegetables and mix.
Add 2 cups of water and increase the flame. Add salt, thyme leaves and sugar to taste. Cover the pan and cook for 10 mintues.
Open the lid and add milk and freshly grounded black pepper. Check the seasoning and the consistency of the soup. You can add more water or Milk to get the desired consistency. Cook for 5-6 mintues more till the veggies are cooked well.
Remove from fire and serve hot with a cube of butter and black pepper powder.