South-indian-bengali Dosa's Coconut Chutney
This dish is mainly side dish in Southern part of India. But it has same importance in Bengal too. This has been made in a little Bengali way.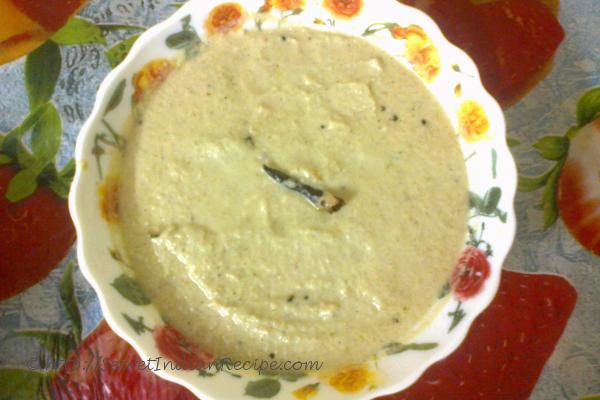 Ingredients:
Coconut grated- 1 big
Roasted Chana Daal- 5tablesp
Oil- 10ml
Mustard Seed- 1/2 tsp
Curry Leaves- 6-10 leaves
Dry red chilli- 2-3pcs
Salt & Sugar- To taste
Directions:
Roast the grated coconut in a dry pan.
Similarly roast the channa daal in a dry pan and soak it in water for sometime.
Now grind the coconut and channa daal in a grinder-mixer.
In the mixture add salt and little sugar to taste.
You may also add 1-2 green chilli.
Now in a small pan heat some oil.
To it add Curry leaves and mustard seeds.
When the mustard starts crackling, pour it in the grinded mixture and serve with dosa.
Footnotes:
While roasting the coconut,the color should not change from white.