South Indian Style Pasta (vegetarian Pasta)
Pasta is mostly liked by all youngsters and the most i like from this is its juicy taste. I tried this recipe from my mom's style. Try at home, it came so well.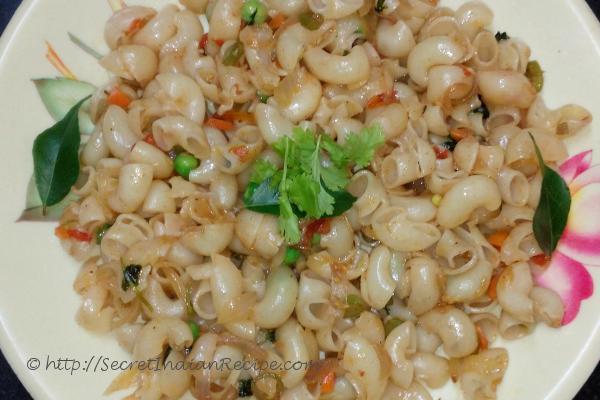 Ingredients:
Pasta - 300 gram
Water - 1 1/2 litre
Oil - 4 teaspoon
Salt for taste
Big Onion - 2 (100 gram)
Fennel Seeds - 10
Curry leaves - (5 - 6 leaves)
Coriander leaves
Ginger Garlic Paste - 1 teaspoon
Garam Masala - 1/4 teaspoon
Green Chilli - 2
Carrot - 1
Beans - 1
Peas - 25 gram
Capsicum - 1/2
Tomato Sauce - 1 teaspoon
Soya Sauce - 1/2 teaspoon
Directions:
In a kadai, boil pasta with 1 1/2 litre water, add a teaspoon oil with a pinch of salt.
Leave for 10-15 minutes and switch off the stove.
Remove boiled pasta into a strainer for removing water.
Now take another pan, heat 3 tsp oil, add onion and saute for sometimes.
Add fennel seeds, curry leaves, coriander leaves, ginger garlic paste, garam masala, green chilli, carrot, beans, peas, capsicum and saute for 10 minutes.
Then add 1tsp tomato sauce and 1/2 tsp soya sauce. Saute for 2 minutes.
Finally add pasta, mix well and leave for 5 minutes.
Now switch off the stove and serve well by garnishing with curry leaves and coriander leaves.
Footnotes:
Tomato sauce suits well with this delicious dish.