Southekayi (cucumber) Hasi Gojju.
Southekayi hasi gojju is easy to make.It is a South Indian tangy-sweet gravy that goes best with hot rice.Some people like gojju with Chappathis.I prefer it with rice.This particular gojju has no cooking involved and love it for its simplicity.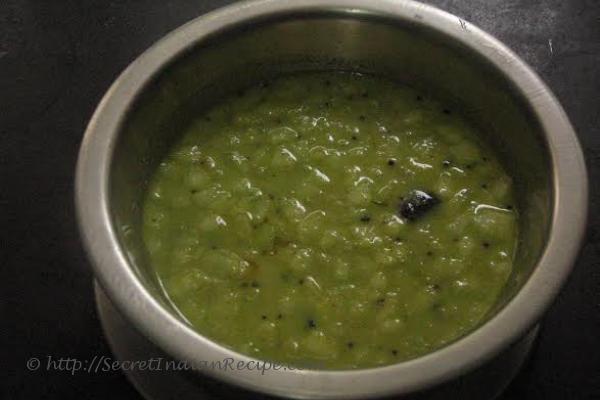 Ingredients:
For Gojju: Cucumber – 2 nos (medium sized finely chopped to uniform sized pieces) Coriander leaves -1 tablespoon finely chopped for garnishing.
For Grinding:
Grated Coconut - 1/4 cup.
Fried gram/ hurigadale - 2 to 3 tablespoon.
Jaggery - 1 tablespoon.
Green Chillies – 2 to 3 numbers depending on taste.
Cumin seeds – ¼ tablespoon.
Mustard seeds – ¼ tablespoon.
Coriander leaves – 1 sprig.
Turmeric powder – 2 small pinch.
Tamarind – a small marble sized ball.
Jaggery - 1 tablespoon.
Salt - to taste.
For Seasoning:
Oil - 2 tablespoon.
Mustard seeds – ¼ tablespoon.
Asafoetida -a pinch.
Dry red chillies - 2 nos.
Directions:
Wash cucumber and peel off the skin.
Add the chopped Cucumber in a wide bowl.
In a mixer add all the ingredients given under grinding.Add enough water for grinding.Cucumber tend to release water,so add water according to it.I have added ¼ cup of water.
Grind the ingredients to a fine paste.Add this paste to the bowl which has cucumber in it and Mix well.
Heat oil in another pan and add mustard seeds to splutter.Add curry leaves,red chilli and asafoetida.Let it become crisp.Pour this seasoning to the cucumber gojju.
Garnish with finely chopped coriander and Serve immediately with hot rice,chapati or roti.
Footnotes:
If you are planning to serve it later,add salt just before serving.Keep refrigerated till you serve.