Soya Babycorn Lolipop
Soyachunks Babycorn Lolipop is awesome evening snack. Its very tasty & healthier snacks. Instead of chicken lolipop my mom tried this by using soyachunks and it comes out very nice.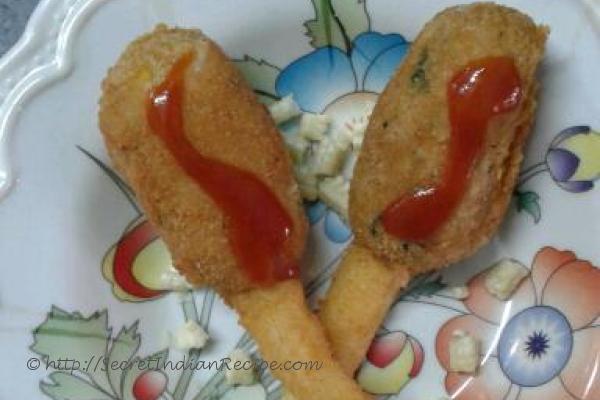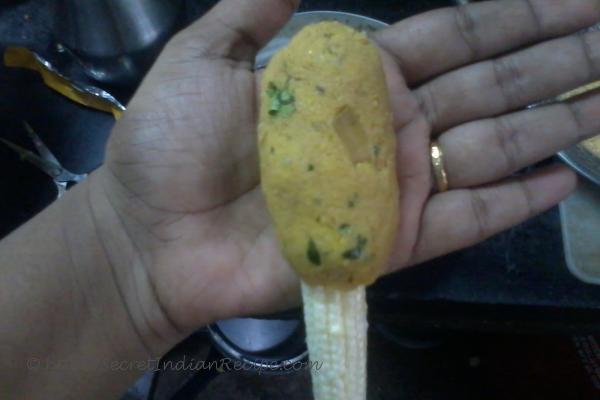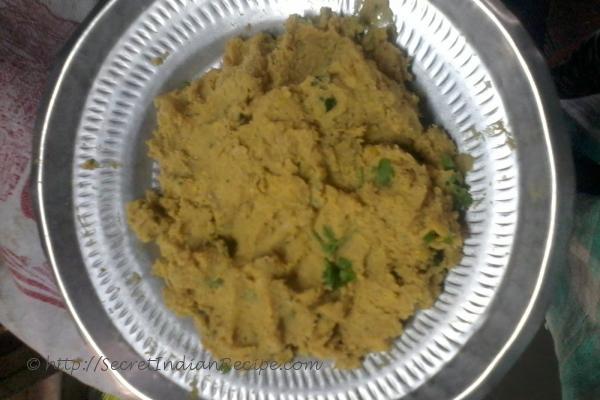 Ingredients:
Soyachunks/soya nuggets-15
Bengal gram dal-1 cup
Small onion-8
Green chilly-2
Grated coconut-2 tsp
Babycorn-10
Chilly powder-1 tsp
Garlic-5 pods
Ginger-1 small piece chopped
Garam masala-1/2 tsp
Coriander leaves-as needed
Mint leaves-as needed
Bread slices-4
Lemon juice-1 tsp
Salt -to taste
Turmeric powder-1/4 tsp
All purpose flour-1 tbsp
Corn flour-1 tbsp
Oil-as needed
Directions:
First dry roast bengal gram dal in a pan, soak this in water for 1 hour.Then cook with salt & water in a pan.
When cooked strain the water & keep aside. Cut baby corn vertically into half and keep aside. We shall use these babycorns as stick for lollypop.
Soak soyachunks in boiling water for 5mins. Wash in cold water twice , squeeze, crumble and set aside.
Peel skin of onion. Cut ginger, green chilli, garlic finely. Heat oil in a frying pan. Add ginger, green chilli, garlic, onion, coconut, coriander leaves , mint and fry for a few minutes.
Add chilli powder, garam masala powder, bengal gram dal, soya nuggets, bread slices, lime juice, salt, stir well and switch off the stove.
When cool, grind the contents to a paste.Take a small portion from the ground paste and shape them into balls.
Stick soya mixture balls on the top of each baby corn to make lollypops.
In mean while take all purpose flour & corn flour in a bowl, mix with water to make a smooth batter.
In a deep frying pan heat oil on medium heat. Dip the lollipop in the batter well and put it carefully into the hot oil and fry till golden brown on all sides. Transfer onto paper towel to drain excess oil .
Serve hot with some tomato ketchup.
Footnotes:
Don't put more lolipops in frying pan at the sametime , it may break or may not cook well.