Soya Chunks And Green Peas Masala
Soya chunks are rich in protein and are considered to be a vegetarian subsitute for meat. Making masala with soyachunks was very tasty and excited me a lot. This masala can be served with rotis, chapatis and jeera rice.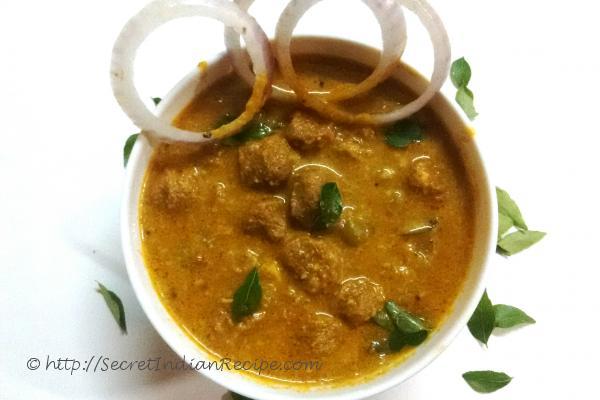 Ingredients:
Soya Chunks - 1 cup
Green Peas- 1/4 cup
Onion - 1
Green Chillies - 2
Cinnamon - 2
Cloves - 2
Ginger Garlic paste -1 tsp
Curry leaves - few
Coriander leaves - few
ChillI powder - 1/4 tsp
Garam masala powder - 1/2 tsp
Coriander powder - 1/2 tsp
Turmeric powder - 1/4 tsp
Salt - as required
Oil - 3 tbsp
For Onion tomato paste:
Big onion - 1
Tomato - 2
Fennel seeds - 1/4 tsp
Kalpasi ( Black stone flower)- 3
Starseed - 1
For Coconut paste:
Grated Coconut - 1/4 cup
Cashew - 6
Directions:
In a bowl add the soya chunks and salt. Now add the boiling water to the soya chunks. Cover it and keep it aside for 20 minutes.
Drain it and rinse the soya chunks in cold water for 3 times. Then squeeze it nicely to remove the excess water.
Heat a tsp of oil in a pan and add the sliced onions. When the colour slightly changes add the fennel seeds, kalpasi and starseed. Saute well till it becomes translucent.Then add sliced tomatoes and saute well till the raw smell goes off. Switch off the flame and allow it to cool. Transfer it to the mixer jar and grind it nicely without adding water.
Heat 2 tbsp oil in a kadai and add the cinnamon, cloves and finely chopped onions. Saute it for a minute and add the ginger garlic paste, green chillies and curry leaves.
When the onion and ginger paste turns golden brown add the grounded onion tomato paste and all the masala powders one by one. Then add the soya chunks, green peas and required salt. Mix them thoroughly and add 1 and 1/2 cups of water. Close the lid and cook them in low flame for 6 to 9 minutes. Now grind the coconut and cashew to a fine paste
Open the lid and add the coconut paste and some more water. Close it and cook them in low flame until the oil floats on the top of the gravy. Finally add the chopped coriander leaves and switch off the flame.
Footnotes:
To remove the raw smell of the soya chunks you have to soak them in hot water for 20 minutes and wash them in running water for 3 to 5 times.
If you are using dried green peas, soak it in water for 3 hours and pressure cook for 3 to 5 whistles.