Soya - Green- Peas - Mushroom- Thoran (soya Green Peas Mushroom With Coconut)
This is a healthy recipe. Soya chunks are made from Soya beans. It has rich proteins. Soya nuggets are favourite food for everyone. Mushrooms are source of powerful nutrients. It has no fat and no cholesterol. It is high in fibre and has more vitamins and minerals. Green peas also are good for health. I learnt this recipe from my aunt.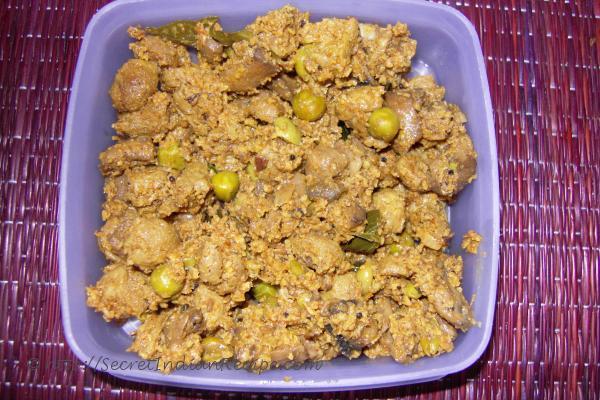 Ingredients:
Soya chunks- 1 cup
Mushroom -1/2 cup
Green peas -1/2 cup
Grated coconut -1/2 cup
Coriander Powder-2 tsp
Cumin seeds -1 tsp
Curry Leaves-Few
Chilli powder-1 tsp
Mustard-1 tsp
Tomatoes - 2
Gram masala-1 tsp
Water - 1/2 cup
Onion - 4
Coconut oil -1 tsp
Water for grinding-2 tsp
Turmeric powder -1tsp
Directions:
Soak Soya chunks in normal water for 6 hours. After that cook the soya chunks with salt and 1/2 cup water in a pressure cooker for 10 to 15 minutes, or till it is fully cooked.
Heat coconut oil in a pan and add mustard seeds, when it splutters add onions, tomatoes,curry leaves, chopped mushrooms, green peas, little salt and cooked soya chunks. Saute for 2 minutes.
Grind grated coconut with 2 teaspoon water, chilli powder, turmeric powder, gram masala powder, cumin seeds and coriander powder.
Add this ground mix to pan and mix all together properly. Sauté for 2 minutes.
When it becomes dry, switch of gas, dish is ready to serve.
Footnotes:
If we chop soya chunks into two then it will absorbs the curry flavours well.