Soya Kilanku Poriyal (soya Chunks And Yam Stir Fry)
Soya is the vegetarian meat option for us on days when we are not supposed to eat meat. I have started to love soya recently because I often have a bowl of soya chunks cooked when I am hungry and when I have unhealthy cravings. This preparation is a Chettinad style where there are a lot of spicy components. It is a simple stir fry and goes well with rice and rotis. Yam too has a meaty texture and so when cooked together this is a non-vegetarians favourite vegetarian dish. Try these ingredients in varatharacha gravy and you won't say it is vegetarian.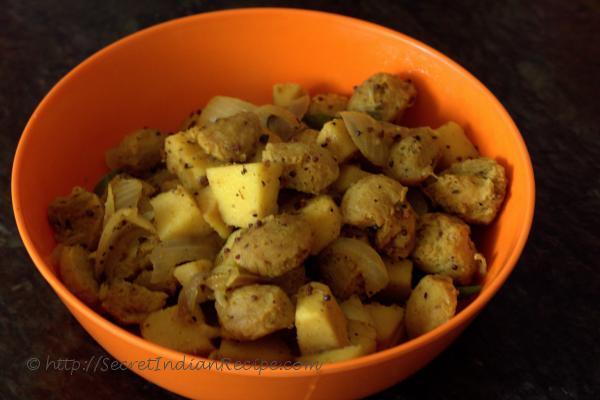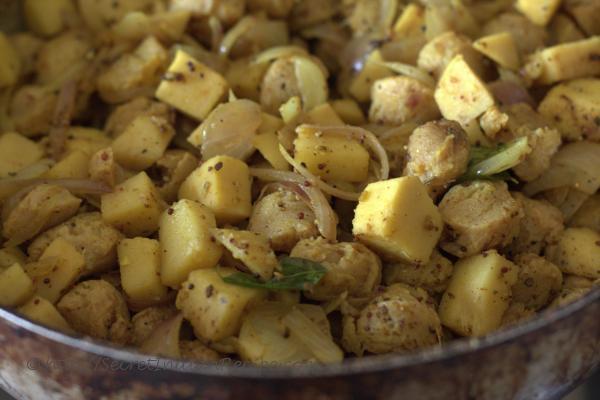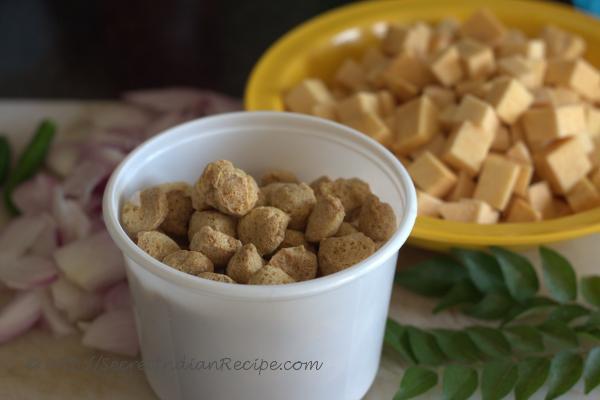 Ingredients:
Soya chunks- 200g
Yam- 300 g
Onions- 2
Garlic- 7 cloves
Curry leaves- 6-8 leaves
Green Chilies-4
Salt- to taste
Turmeric powder- 1/2 tsp
Pepper powder- 1 tsp
Garam masala- 1/2 tsp
Oil- 2 tbsp
Chili flakes- 1 tsp
Mustard seeds- 1/4 tsp
Cumin seeds- 1 tsp
Dry chilies- 2
Directions:
Clean and chop the yam into medium size pieces. Boil them with a pinch of salt and turmeric in 2 cups of water.
When the yam is half cooked, drain them and set them aside. Wash and boil the soya chunks in 1 and 1/2cups of water for 5 minutes.
Drain the soya too when it is cooked. We will be cooking the soya and yam together so cook both these ingredients partially.
If your soya chunks look big because they do swell up when cooked, cut them into small pieces after you cook them.
Heat oil in a pan and add the mustard seeds and dry chilies. When the mustard splutters, add the cumin seeds. Saute for 2 minutes and add the curry leaves.
Add chopped onion, garlic and green chilies to the pan and saute till they soften.
Add chili flakes, turmeric, pepper powder and garam masala to the onions and saute for 2-3 minutes so that the spices are roasted.
Add the yam and soya chunks to the spices and toss them around. Check the salt levels since yam already was cooked with salt.
Add required salt and cover the pan with a lid to allow the yam and soya to cook together with spices.
Stir the contents in between and uncover the pan after 5-8 minutes. If there is any water content left increase the flame and stir fry till the contents are dry.
Serve the stir fry with rotis or rice.
Footnotes:
This preparation is spicy with green chilies, pepper and chili flakes. Adjust heat level by omitting any of these if needed.