Soya Koftha Balls
Very crispy, spicy and best to eat with rice preparations and also as evening snack.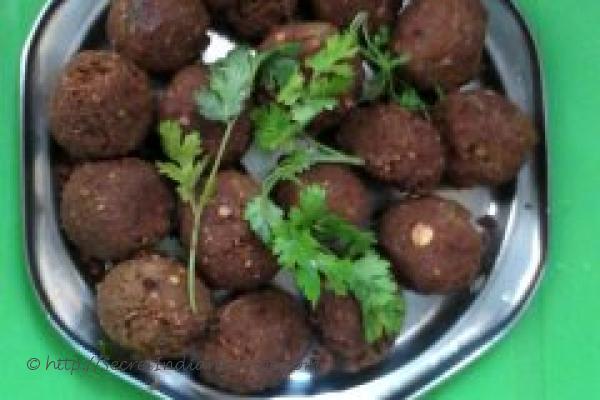 Ingredients:
Soya -1small cup
Garam masala powder -2 spoon
Chilli powder -1 spoon
Green chillies -2
Salt-2 spoon
Roasted gram-1/4 cup
Coriander leaves –few
Curry leaves- few
Onion 2 (1 Sliced, 1 chopped)
Coconut- 2 small pieces
Cornflour- 3 tablespoon
Oil –to fry.
Directions:
1.Soak soyaballs for 30 minutes.
2. Grind the soyaballs coarsely in grinder.
3. Now add ginger garlic paste , green chilies, coconut pieces, salt and sliced onion in the jar and grind it again.
4. Sprinkle few drops of water.
5.Transfer the contents into a bowl.
6. Add the sliced onion, chopped curry & corriander leaves, chilli powder and garam masala powder in the mixture.
7.Powder the roasted gram and add it in the mixture.
8. Add corn flour in the mixture.
9.Mix all the contents and make it as small or oval balls and deep fry it.
Footnotes:
Roasted gram powder helps to tighten the mixture and adjusts the excess water if any, in mixture.