Soya Matar Keema (minced Soyabeen And Green Pea Curry)
This recipe reminds me of "Maa' (Means mother in Bengali). She was our old neighbor and was a versatile personality. She was a trained Nurse so whenever we used to get hurt while playing, we used to run to her, She was equally good in stitching cloths and knitting, so I often used to go to her for my school crafts and for making dresses for my doll and yes She was an excellent cook. She was a Muslim and married to a Bengali and thus her recipes used to be a mix of the two cultures. The first time, when she brought a bowl of Soya Matar keema, I could not realize that it is soya and not mutton Keema…… She is no more and by sharing this recipe with you all, I would like to pay my tribute to her.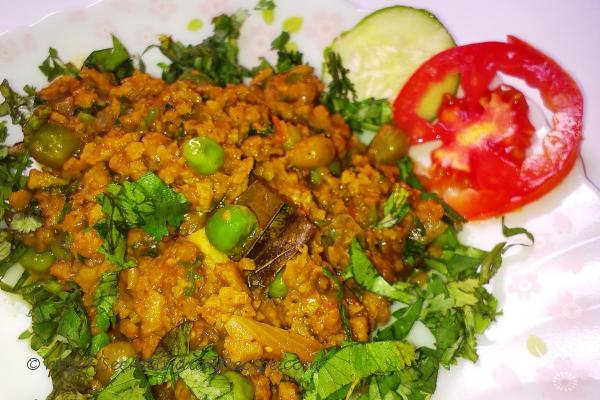 Ingredients:
Soya granules – 50 grams
Green Pea – 100 grams
Refined oil – 4 tablespoon
Cumin Seeds – ½ teaspoon
Tomato – 1 medium sized (¬¬Chopped)
Bay leaf – 1 piece
Turmeric powder – 1 teaspoon
Red chili powder – 1 teaspoon
Ginger – Garlic paste – 3 teaspoon
Garam masala – ½ teaspoon
Meat masala – 1 teaspoon (Optional)
Cumin Powder –1 teaspoon
Salt – as per your taste
Biryani essence – 2 drops (Optional)
Coriander Leaves – ¼ cup (Chopped)
Directions:
Take a cup of hot water and soak the soya granules for 10 mintues. After 10 mintues, sqeeze the soya granules to drain the excess water and keep aside.
Heat 2 tablespoon of oil in a karahi/ pan and add these soya granules. Sauté on medium flame for about 2 mintues……This will turn them crunchy from outside but soft inside. Take out the soya granules and keep on a plate.
In the same pan add the remaining oil and heat it. Add the cumin seeds along with bay leaves and let it splutter. Follow it with chopped onions and fry the onions till they start turning brown.
Now add ginger garlic paste and tomatoes and fry till the tomatoes turn soft. Add Cumin powder, Turmeric powder, Red chili powder and meat masala and fry till the masala starts turning oil from sides.
At last add the green peas, soya granules, salt, garma masala, half of chopped coriander leaves (Cooked coriander will enhance the taste) and 1 cup of water and mix. Let the gravy simmer on low flame for about 10 mintues.
Check the seasoning and add the Biryani essence. If there is excess water then increase the flame and evaporate the water.
Garnish with remaining coriander leaves and the serve hot.
Footnotes:
If you are not using meat masala then increase the Garam Masala powder to 1 teaspoon