Soya Paratha With Peanut Dip
Paratha is liked by all Indians. There are lots of variations in paratha. Today I have prepared soya paratha for breakfast. This dish is not only healthy but tasty also. Try this at home.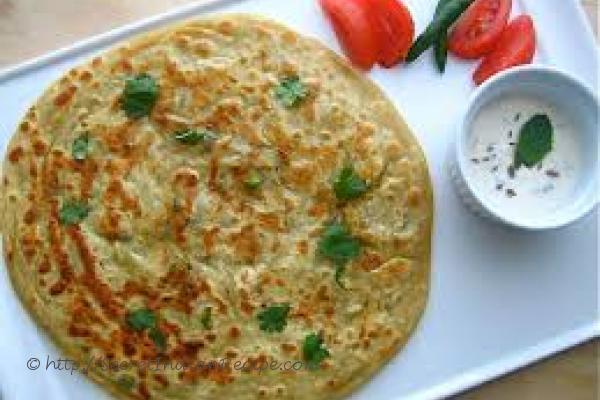 Ingredients:
For Soya paratha -
Soy granules boiled – 1 large cup
Ginger paste - 2 tsp
Red chili powder – 1 tsp
Tomato sauce – 2 tbsp
Garam masala powder – ½ tsp
White sesame – 1 tbsp
Fenugreek seeds – 3 or 4
Fennel seed – 6/7
Cumin seeds 1 tsp
Black cumin seeds - ½ tsp
Ajwain ( carom seeds) – 1 tsp
Wheat flour – 1 large cup
All purpose flour – 1 large cup
Chatu ( chickpea flour) – ½ cup
Oil for toast paratha
Salt to taste
For Peanut Dip -
Peanut – ½ cup
Poppy seeds - 1 tbsp
Green chili -2
Salt to taste
Directions:
For paratha stuffing , heat oil in a pan, add ginger paste and chili powder, cook for few seconds. Add soy granules and salt, stir well to make the mixture dry. Add tomato sauce and garam masala powder, you can add chopped coriander leaves if you like, keep aside
For dough, mix wheat , all purpose flour and chatu, add fenugreek ,fennel seeds, cumin, black cumin seeds, sesame seeds and ajwan. Add warm water and knead a fine dough , you can add oil inside the dough
Divide the dough in to 8 equal balls. Roll out and add soy granules mixture 1 tbsp full in the middle of the balls. Shape them again like balls by your palm, you can spread oil on your palm. Roll out and toast each paratha, add ½ tbsp oil while toast each of them
For peanut dip, make a fine paste of peanut, chili and poppy seeds
Add water and salt. In a pan boil the paste till It well be medium thick. Serve with Paratha.
Footnotes:
Posted by Tapashi Dey Food Writer & Blogger Visit my facebook page My website : www.recipecuisine.com