Soya Scotch Egg
Tea time is very special time for some of us . It is the time to sit back , get relaxed and have a cup of tea . My recipe is just perfect to serve as a tea time snack when you have guest at home. You can also serve these as a starters or as a cocktail accompaniment.
My son also love this exciting snack ......... .........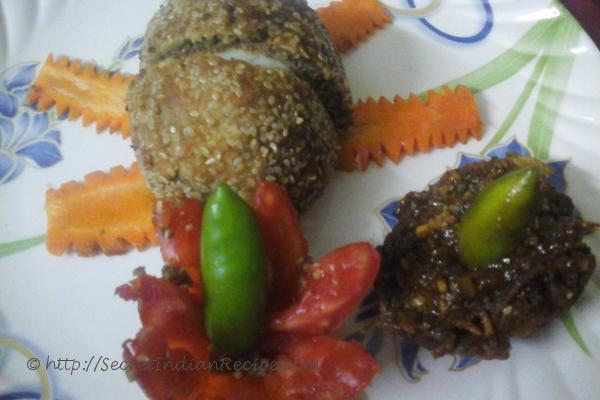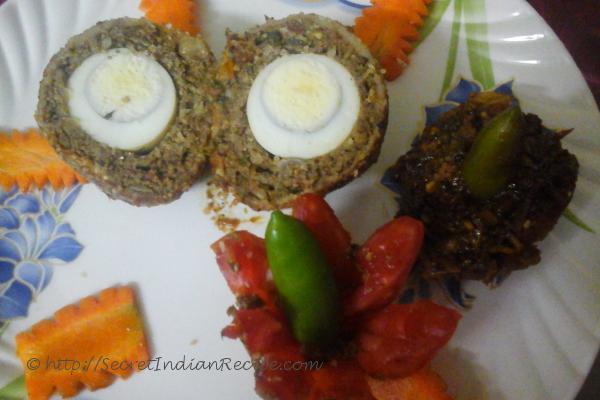 Ingredients:
Soya beans Keema boiled - 500 gm
Hard boiled eggs - 4 no
Bengal Gram powder - 4 tablespoons
Chopped Onions - 3 teaspoons
Ginger and garlic paste - 2 teaspoons
Chilli powder - 2 teaspoons
Green chilli chopped - 2 teaspoons
Roasted Cumin powder - 2 teaspoons
Garam masala powder - 1 1/2 teaspoons
Salt to taste
Sugar - 1 teaspoon
Bread crumb - 2 cups
Egg wash - 1
Few chopped coriander leaves
Oil for frying
Directions:
Heat oil in a pan add chopped onions, ginger , garlic paste and green chilli and fry till it becomes light golden brown in colour .
Add soya keema , cumin powder , salt , sugar , chilly powder , bengal gram powder and garam masala powder fry for few minutes and all the masala mixture well , after 10 minutes turn off the heat and let the soya mixtures completely cool down to room temperature , then add chopped coriander leaves .
Take a ball of the keema mixture on palm and then flatten in out . The surface should be big enough to hold the egg , and cover the egg .
Now roll the SCOTCH. EGG in bread crumbs .
Gently suspend the Scotch Egg in hot oil and fry until both sides is golden brown .
Sprinkle some chat masala and serve with onion , garlic , raw mango wine salsa .............
BITE IN AND. ENJOY. THE. MAGIC ..........