Soyabean Biriyani
My daughter's friend's mother taught my daughter this dish and she passed it on to me. It is one of the best variations of Biriyani I have ever had. It can be served with boondi or cucumber raita. Soybean Biriyani has become my Sunday specialty.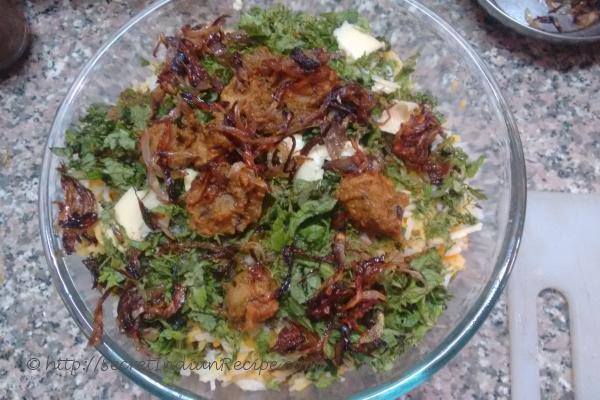 Ingredients:
Basmati Rice: ½ kg
Soya Bean nuggets: 1 large cup
Tomato: 3
Onion: 2
Green Chili: 3
Coriander Leaves: 1 cup
Mint Leaves: 1 cup
Garlic: 8-10 cloves
Red Chili Powder: 2 tsp
Turmeric Powder: 1 tsp
Suhana Chicken Masala: 2 tsp
Garam Masala: 3 tsp
Butter: ½ cup
Cardamom (big and small): 3-4 each
Cloves: 3-4
Cinnamon: 1 inch
Oil: 7-8 table spoon
Salt to taste
Directions:
Wash the Basmati Rice till the water runs clear. Soak the rice in water for about 30 min and keep strain it after 30 min and keep aside.
Wash the soya bean and soak it in hot water for about 1 hour.
Grind the onions and the garlic into a fine paste. Then grind the tomatoes and the chili into a fine paste.
Heat oil in a cooker. Add cloves, cardamom and cinnamon to the oil. After about a minute add the onion and garlic paste and fry it till it turns pink. Now add the tomato and green chili paste and fry it for about 2-3 minutes.
Add red chili powder, turmeric powder, suhana chicken masala and salt to the mixture and fry it till the oil is seen at the end of the mixture.
Now, drain all the water from the soya bean and add it to the mixture in the cooker. Mix it thoroughly. Add one glass of water and pressure cook the soya bean till you hear 3 whistles.
Place a large saucepan of cold water over high heat. Add bay leaves, cloves, cinnamon, and cardamom and caraway seeds. Drain rice, then add to pan and bring to the boil. Strain it when it is almost cooked. Do not overcook the rice. Keep aside.
Take a big microwave bowl. Put one layer of rice and over it put the soya bean gravy. Now sprinkle the coriander leaves and the mint leaves. Sprinkle some garam masala and add small chunks of butter over it. Repeat the process to form layers.
Microwave the biriyani for about 15 minutes. Serve hot with raita.
Footnotes:
Soyabean can be replaced with vegetables or eggs.