Soyabean Keema Roll (minced Soyabean Roll)
Soyabean is a healthy option, it is a great source of natural protein. It is also versatile like potato and paneer and can be added in any recipe. Soyabean keema roll is suitable for snack, breakfast or it can also be taken as main dish.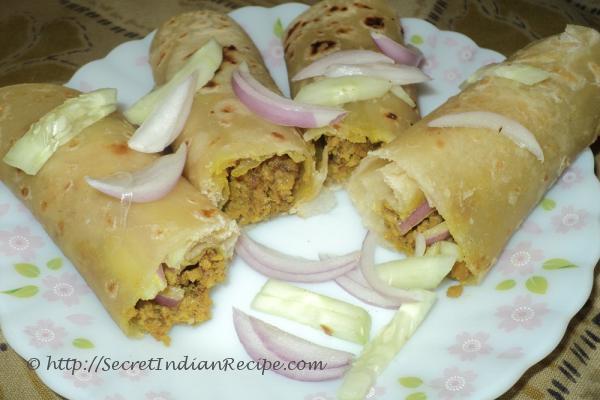 Ingredients:
For Soyabean keema
Soyabean keema 200 grams(3.5 ounce)
Bay leaves 2 pieces
Onion paste 1 onion
Ginger – garlic paste 2 tablespoon
Turmeric powder ½ tablespoon
Cumin powder 1 tablespoon
Black papper powder 1/2 tablespoon
Garam Masala powder 1/2 tablespoon
Red chilli powder ½ tablespoon
Jaiphal and javitri powder ½ tablespoon
ustard Oil 4 tablespoon
Onion 1 finely chopped
Cucumber 1 finely diced
Salt 1 tablespoon
For Roll
Maida refined flour) 200 grams ( 7 ounce)
Refined Oil 100 mililitre
Directions:
Method soyabean keema
Pour the soyabean keema in 2 cups of boiling water. Boil for 2 mintues and then drain the water. Once the keema is cooled squeeze out the excess water.
In a pan or ' Karahi' put mustard oil and add bay leaves. Once it starts popping add onion paste followed by ginger- garlic paste and sauté a bit. Then add cumin powder, turmeric powder, blackpepper powder, garam masala, Jaiphal and javitri powder and salt and fry till the masala starts leaving the oil. Add the boiled keema , mix well and fry for 5 mintues.
Method roll
Take refined flour, 2 tablespoon of refined oil and mix them altogether. Add water and make dough. Make small balls and roll out parathas by using rolling spin. Heat tawa and cook the parathas by applying refined oil on both sides.
For serving take a paratha, place 2-3 tablespoon of prepared soyabean keema in the centre. Top it with sliced onions and cucumber and roll the paratha and serve.