Soyabean Keema Tikia Curry(minced Soyabean Tikia Curry)
It is a vegetarian side dish recipe. Here minced soyabean is shaped into tikias and then is served with a spicy curry. Soyabean is rich source of protein specially good for people who are vegetarian. Children who do not like to have soyabean will also enjoy it in tikia form.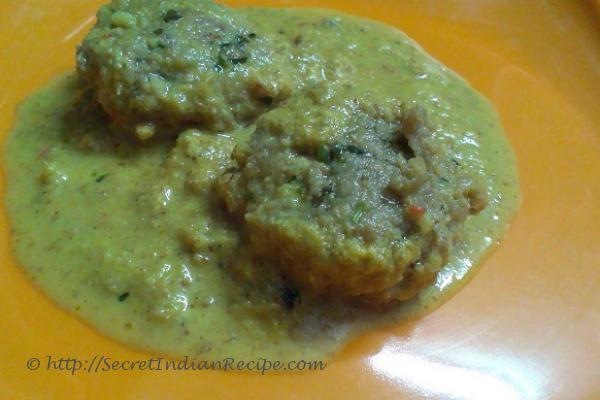 Ingredients:
Ingredient (for tikia)
Soyabean keema (minced mutton) 100 grams ( 3.5ounce)
Boiled potato I piece (mashed)
Grated ginger ½ tablespoon
Chopped red chillies ½ tablespoon
Chopped coriander leaves 1 tablespoon
Roasted Cumin Powder ½ tablespoon
Garam masala powder ½ tablespoon
Salt ½ tablespoon
Sattu (roasted gram flour) 2 tablespoon (for binding)
(For curry)
Tejpatta (bay leaf) 1 piece
Onion paste 1 onion
Cumin powder ½ tablespoon
Ginger garlic paste 1 tablespoon
Red chilli powder 1 tablespoon
Biryani essence 4 drops.
Gram Masala powder ½ tablespoon
Salt 1/2 tablespoon
Refined oil 10 tablespoon
Directions:
Boil the keema for 2 mintues, drain the excess water and keep aside.
In a bowl take boiled keema and add mashed potatoes, grated ginger, chopped chilli and coriander leaves, roasted cumin powder, garam masala, sattu, ½ tablespoon of salt and mix them altogether. Make 4 tikia from the mixture and keep aside
Heat oil in the karahi and then shallow fry the tikia till they turn golden brown. Follow till all the tikia have been fried.
In the remaining oil add bay leaf. Once it starts popping add the onion paste, ginger paste,garlic paste, cumin powder,red chilli powder and salt and cook with the lid on low flame till the masala fried and it leaves the oil. Add biryani essence or kewra water and garam masala and half cup of water. Mix well and let it cook for 2-3 mintues. Add the tikia and serve hot with Paratha.