Special Bengali Orange Dates Kheer( Kamalalebur Kheer)
Orange is popularly known as Kamla Lebur in West Bengal . This orange or Kamla kheer is a traditional Bengali dish prepared in almost every household of West Bengal. It's a simple and quick dish. I have used full fat milk, sago and dates infused with pumpkin pie spice and cardamon essence. The orange segments are mixed in the milk pudding on cooling and then refrigerated for atleast 2 hours. Serve it cold as a dessert.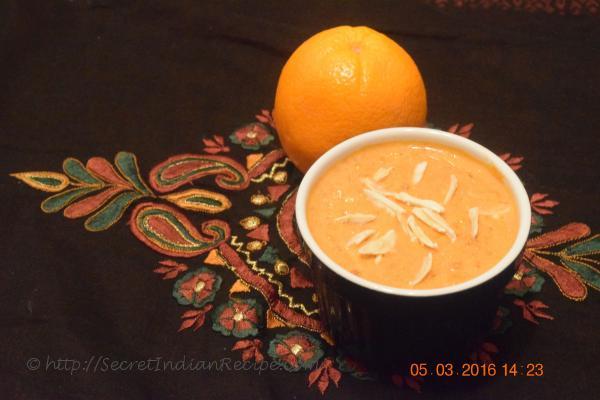 Ingredients:
2 1/4 cups whole fat Milk
1/2 tsp Cardamon powder
1/4 tsp Pumpkin pie spice
1 tbsp soaked and drained Sago pearls
2 Oranges ( I used navel orange ; even clementine mandarin orange will also be good)
8 Medjool Dates pitted
Soaked, peeled and thinly sliced Almonds for garnishing
1/2 tsp edible Red Food Color
Directions:
Soak the dates pitted in 1/4 cup lukewarm milk for30 minutes ( you can microwave the milk for 40 seconds). After 30 minutes pulse it in a food processor/mixer to get dates puree.
Peel the orange. Pluck out the segments and remove transparent thin film/skin, seeds, and the white thread. Make small pieces. Keep it aside.
Heat and bring 2 cups of milk to a boil in a container at medium high heat. This might take 7-8 minutes. Keep stirring in between so that the milk does not stick to the pan.
Add the sago and the dates puree. Stir and mix. Add cardamon powder and pumpkin pie spice. Cook this on medium high heat till the milk thickens. This might take 10 minutes. Keep stirring in between to avoid sticking to the pan. Once the milk thickens, take off the pan from the heat and let it cool for 10 -15 minutes.
Add the edible food color and the chopped orange segments into the milk. Mix it and refrigerate for atleast 2 hours. You can also use 2-3 strands of saffron soaked in 1 tbsp of milk to give color.
Do not reheat the orange kheer after you have added the orange segments. Once refrigerated, serve it cold garnished with chopped/sliced almonds or pistachios. You can take out the kheer 30 minutes before serving.