Special Chicken Roast
Chicken roast is not restricted to anyplace. From Kashmir to Kanykumari all are fond of this but it seems to be very difficult to cook without micro-oven. But my recipe is totally without micro-oven and can be easily cooked in normal Kadai.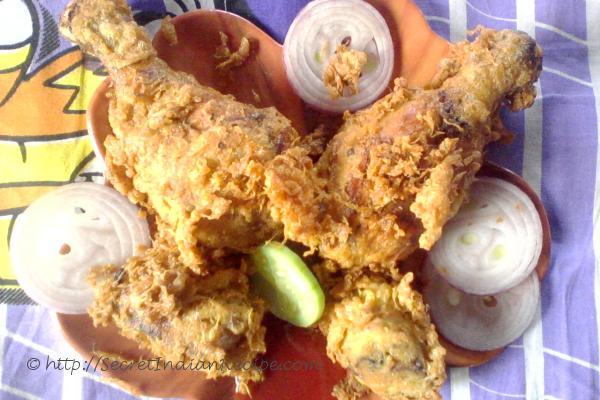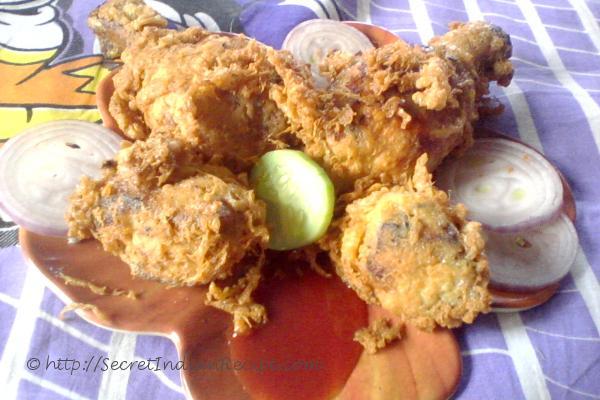 Ingredients:
Chicken Leg piece- 2nos.
Bitten Egg- 1pc
Corn Flour- 3tablesp
Salt- 1tsp
Baking powder- 1tsp
Corn flakes- 1plate
Oil- 150ml
Directions:
Boil the chicken lightly with salt.
To the chicken, add the bitten egg and mix well.
Now add little corn flour and salt to it.
Dip it in corn flakes and deep fry it in oil.
When the leg pieces become golden brown, take it off the oven.
Serve hot by garnishing with Onion and tomato sauce.
Footnotes:
Those who prefer not to fry it in deep oil,they can roast it in Griller.
For them till Step 4 will remain same except frying.
Other Indian Recipes that you may Like !