Spicy Malabar Chicken Fry
I tasted this fiery dish at a Kerala restaurant and I loved it so much that I decided to recreate it at home. It is a spicy dish that goes very well with rice/rotis. The flavours of coconut oil and fennel seeds take it to a different level altogether.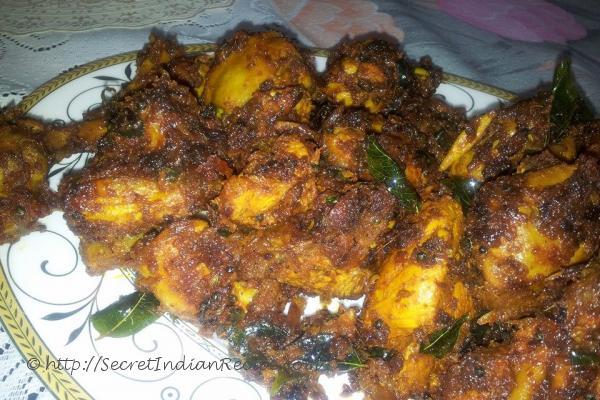 Preparation Time:
20 minutes + 6 hours marination
Ingredients:
1kg chicken skinned n cut into medium pieces.
Kashmiri chilli powder- 2 tbsp
Turmeric powder- 1/2 tbsp
garam masala- 1/2 tbsp
pepper powder - 1/2 tbsp
juice of 1 lemon
white vinegar- 1tbsp
ginger - 1" piece
garlic - 6/7
green chillis-2
salt to taste
Mustard seeds - 1 tbsp
fennel seeds -1tbsp
shallots sliced- 1 1/2 cups
dry red chillis - 4
coconut oil - about 2-3 cups for frying
curry leaves - 1 cup
Directions:
Make a marinade of the chilli powder, turmeric powder, garam masala, pepper powder, juice of half a lime, white vinegar, ginger, garlic, green chillis, salt to taste. Let the chicken marinate in this paste for about 4-6 hours. Boil the marinated chicken without adding any water (the chicken will cook in its own juice) till it is about 3/4th cooked. Keep it aside.
Fry small portions of the chicken in very hot coconut oil. It can be shallow fried or deep fried, but I have observed that the taste and the texture both are enhanced in this dish when the chicken is deep fried. Remove with a slotted spoon and drain on kitchen towels.
Transfer 2-3 tablespoons of the same oil into another heavy bottomed pan and add the mustard seeds. When they crackle, add the fennel seeds, shallots,dry red chillies and lots of curry leaves. Stir fry till the shallots are light brown. Now add the chicken back into this mixture and mix well and stir fry for another 5 minutes. The chicken should be done now. Serve with hot rice or rotis.
Footnotes:
Variation- The same recipe can be used for boneless chicken or chicken strips too. It makes an excellent starter for cocktails.
Other Indian Recipes that you may Like !