Spicy Strawberry-citrus Chutney: An Indo-western Fusion
I wanted to give this chutney a "cosmopolitan" twist. I had some Cointreau in my kitchen (a mini bottle, which I bought long back from a sugarcraft store), lying neglected for months. I love cooking or baking with these boozy wonders, since by doing so the alcohol almost evaporates, leaving the fruity factor behind. I used this long back only to make one of our favourite desserts: Crepes Suzette. I decided to use this with the strawberries, so that my chutney gets a nice citrusy spurt of flavours as well. I thought, I'd definitely add some lime juice, lime zest and orange zest to this to top up the citrus note in this chutney.
Being an Indian, my tastebuds are eternally married to spices… I love to play with them in my cooking. But… spices with strawberries? Yes, why not! I tasted a kind of strawberry jam once, made with a hint of pepper, and loved the taste. So black pepper is definitely going into my chutney. Next two spices are black mustard seeds and fennel seeds, which impart a sweet, spicy and aromatic touch to a majority of common Indian chutneys. That's it! No overpowering of flavours and we get a new kind of boozy, citrusy, spicy, sweet and sour balance in this wonderful strawberry chutney!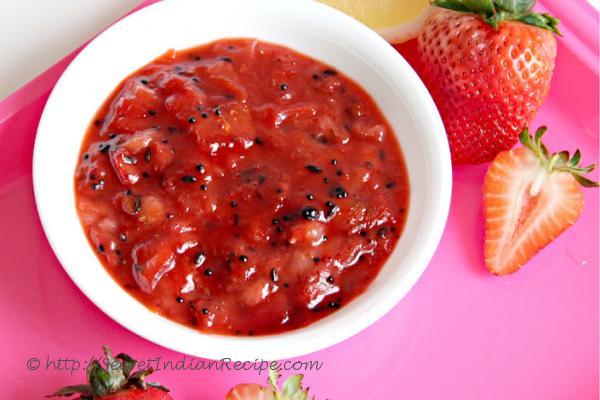 Ingredients:
Fresh, de-seeded and chopped strawberries (sweet and sour): 1.5 cups
Cointreau (can be replaced with double the amount of orange juice): 6 tsp
Lime juice: 1.5 tbsp
Vinegar: ¼ tsp
Salt: ¼ tsp
Orange zest: 1 tsp
Lemon zest: 1 tsp
Mixture of black mustard seeds, fennel seeds and black pepper: ½ tsp
Water: 6 tbsp
Extra virgin olive oil: 1.5 tsp
Sugar: 6 tsp (less or more, depending on individual sweetness level)
Directions:
Marinate the chopped strawberries with lime juice, vinegar, salt, and the orange and lemon zests for 10 min. Add half the Cointreau to this, mix well and let this stand for 5 more minutes.
Heat oil in a pan. Add the seeds and wait till the fennel seeds become just light brown. Add the marinated strawberries and cook for 5 min.
Add the sugar and the water and continue to cook, covering the pan with a lid, till the chutney becomes saucy and the strawberries become very soft. Add the remaining Cointreau and stir constantly for 5 min, till the chutney becomes thicker (consistency should be similar to that of condensed milk).
Serve the chutney cold, but not chilled. This can be refrigerated for two weeks.
Enjoy the goodness of strawberries in a very different style! Can be accompanied with grilled meats or steamed rice.