Spinach Idiyappam With Vegetable Stew
I love idiyappams a lot. This is a healthy breakfast which consists of vegetables and steamed idiyappams. It is less spicy. I wanted to give a healthy twist to the regular idiyappams, so made spinach idiyappams. It tastes very good.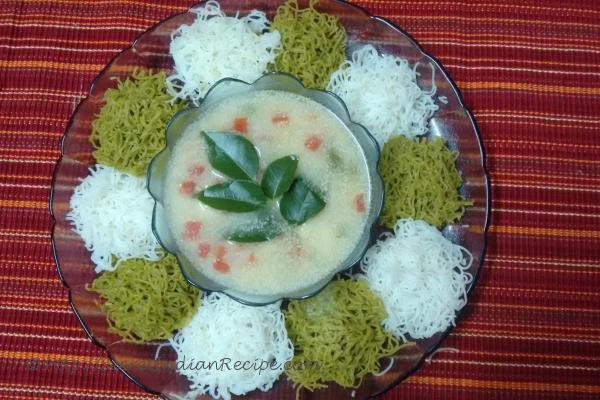 Ingredients:
For Idiyappam: Rice flour - 250 gm
Spinach puree - 1/2 cup
Salt to taste
For stew: Onion - 2 nos cut into dices
Cut veggies - 1 cup (carrots, cauliflower, green peas)
Boiled and mashed potatoes - 4 Nos
Grated ginger - 1 tbsp
Green chillies – 3
Salt as per taste
Coconut milk - 1 cup
Oil for seasoning
Directions:
For Idiyappam, boil water first. Take the rice flour, salt and spinach puree in a bowl. To the flour add boiling water and make into a soft dough and leave it for some time.
Meanwhile, in kadai, add oil and saute ginger, green chillies, and onion for 1 minute until onion is transparent.
Add the vegetables and saute for 3 minutes. Add salt to it. Add the boiled and mashed potatoes to it and add around a litre of water. Let it boil for 5 minutes in simmer.
At last, add the coconut milk to the gravy and adjust the salt. Stew is ready.
For Idiyappam, Take the dough in the sev maker and pipe it into the idli plates and steam it for 3 minutes. Idiyappam is ready.
Hot steamed idiyappams with stew are really yummy!!!