Spinach (palak) Chicken
Spinach is good for our health. It provides us protein, iron,vitamins and minerals.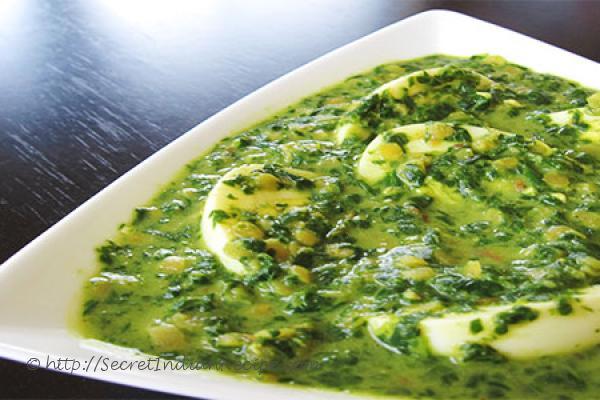 Ingredients:
Chicken 500 gm (cut into medium size pieces)
Spinach leaves 200 gm (finely chopped)
Fenugreek leaves 200 gm (finely chopped)
Tomato puree 1 cup
Garlic paste 2 tbsp
Green chili paste 1 tbsp
Gram flour 3 tbsp
Garam masala powder 1 tbsp
Butter 2 tbsp
Salt to taste
Directions:
Wash fenugreek leaves with hot water and salt and squeeze to remove bitterness Wash spinach leaves, change the water several time to get properly clean leaves Boil fenugreek and spinach leaves in 2 cups water until soft, remove from heat and keep aside to cool
Mix the leaves in blender, heat a pan & pour the mixture, stir occasionally, add salt and gram flour, again stir When the mixture become thick, remove from heat Heat 1 tbsp butter in a pan , add garlic and chili paste, add chicken pieces and stir.
Add salt and cover the pan, cook for 10 minutes on medium heat Add spinach & fenugreek mixture & tomato puree, again cover the pan & cook until chicken becomes tender You can add hot water if require, add garam masala powder and butter Garnish with onion rings
Other Indian Recipes that you may Like !