Split Urad Dal.
A delicious and creamy Dal using Split Urad dal and a handful of channa dal. Fresh Methi leaves add in some flavor and texture too.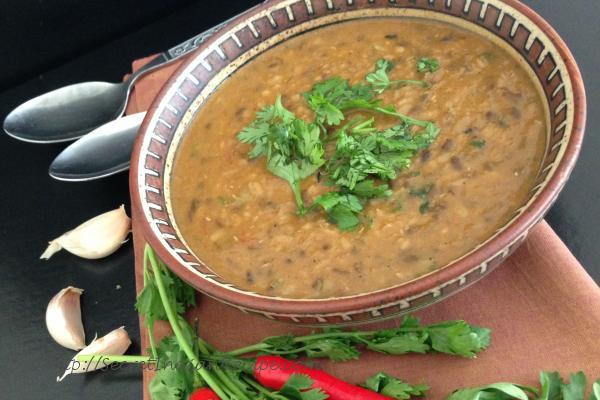 Ingredients:
1 cup Urad dal chilka (split Black gram dal with skin )
1 tablespoon Channa dal
2 Cups water
Salt to taste
1/2 teaspoon Turmeric powder
1/2 teaspoon shredded Ginger
2-3 pods Garlic chopped finely
2 Tomatoes (finely chopped)
3 tablespoons Ghee
1 teaspoon Cumin seeds
A pinch of hing (Asafoetida)
1/2 teaspoon Chili powder
1/2 bunch fresh Methi/ Fenugreek leaves (finely chopped)
Directions:
Wash both the dals well and soak in water for half an hour.
Add enough water and pressure cook both dals for about 8- 10 minutes.
For tempering: Heat ghee or oil in a pan. Add the cumin seeds and the hing. Now add in the turmeric and chili powder and fry.
Next add in the tomatoes and a little water and cook well.
Now add the chopped meethi leaves and cook further for about 3-4 minutes.
Add the cooked dal and if required add some water to get the desired consistency and simmer it for 2 mintues.
Garnish with chopped coriander leaves.