Sponge Rasgulla #holirecipe
Rasgulla is one of the sweet that is very much liked by mostly all. This sweet originated from Bengal and Orissa. This is one of the easy sweet recipes that you can make on festive occasions. Rasgullas can be made in bulk and stored in refrigerator for almost a week. This delicious sweet takes only a few ingredients that are easily available at home like milk which is curdled to make chenna, some curd or lemon and sugar for sugar syrup. My family totally love rasgullas that I make and I am thinking of making them again on Holi. Hope you will also make and like it as much as me and my family does. Let us begin to make Sponge Rasgulla at home with simple and detailed recipe.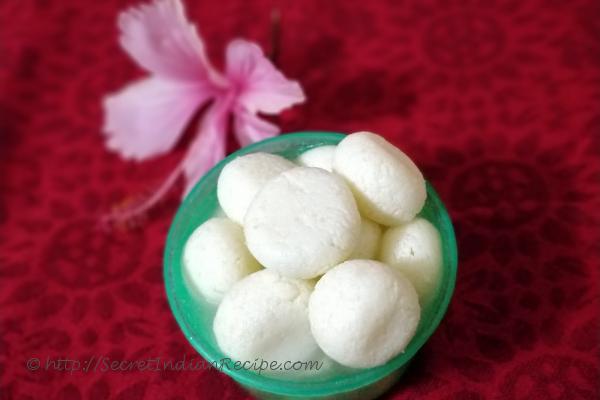 Ingredients:
1 litre full fat Cow Milk
½ cup Curd
1 litre Ice Cold Water
2 cup Sugar
8 cups Water
1 tsp Rose Water
Directions:
Bring 1 litre cow Milk to boil low to medium heat. Stir occasionally.
When milk is boiled, add ½ cup Curd or 2-3 tbsp Diluted Lemon Juice or Vinegar. If you are using Lemon Juice or Vinegar, dilute it with 2 tbsp of water and use as needed. Amount of lemon juice required depends on the quality of milk. But using curd gives rasgullas perfect smell and taste, so I prefer to use curd.
Milk will start curdling in 2-3 minutes. If milk does not curdle, then add some more curd. Let the milk to curdle. Switch off the flame and leave it for 2 minutes.
Add 1 litre Ice Cold water or 1 cup Ice cubes into the curdled milk and leave it for 2-3 minutes.
Pour curdled milk over a muslin cloth in a bowl or strainer and drain the excess water. Do not squeeze it excessively.
Tie the muslin cloth and hang it on a tap for about 30-45 minutes.
After 30-45 minutes, take out chenna from the cloth. Chenna should neither be too moist nor too dry.
Now, make chashni or Sugar syrup in a large pan or cooker. Take 8 cups of water and add 2 cups of sugar into it and heat it till it boils. Stir it occasionally.
Simultaneously we will proceed to knead the chenna and make small balls out of it. Knead chenna well for about 8-10 minutes. Kneading time depends on the quality of milk used to make chenna and also on the pressure applied while kneading. We have to knead it to a stage where it just starts to release oil. Stop kneading at this point. Do not over knead chenna as rasgullas will turn rubbery in this case.
Take small portion of the kneaded chenna and make a ball and keep aside. Similarly make balls of whole of the chenna. You can make balls of desired size. I do not prefer very large rasgullas, so I make small to medium sized balls.
When sugar syrup start boiling, add a few balls into the cooker and cover it with lid. Let it cook for about 10-12 minutes. Do not over crowd the rasgulla balls in the cooker so that they get sufficient space to puff.
After cooking in sugar syrup, Rasgulla balls double up in size. Take out the rasgullas with some sugar syrup in a bowl. At this stage, rasgulla balls are very delicate and soft. Let them cool down for some time. When they are cooled to room temperature, refrigerate them further for about 5-6 hours for the best taste. After cooling they will become firm in shape.
While serving, add 1 tsp of rose water for fragnance. Serve the cold, sweet and spongy Rasgullas with some Sugar Syrup
Footnotes:
Kneading process is very important while making rasgullas. Kneading chenna to a correct point is crucial, as over kneading will result in rubbery rasgullas and less kneading can break rasgullas while cooking.
If your rasgullas break in sugar syrup, add 1 tsp Sooji or Rava in chenna while kneading. You can also use ½ tsp Cornflour.
Sometimes, sugar has impurities which make sugar syrup not clear. To remove impurities, add 1 tsp milk in sugar syrup. After few minutes, impurities will begin to float on the top. Remove them with a spoon or strain the sugar syrup.
Do not stuff too many balls for cooking at one time. There should be enough space for them to float and puff. Also, do not stir excessively the balls in sugar syrup. This can break the balls.