Spring Roll Wrappers Recipe
Spring Roll Wrappers recipe is a sheet or pastry that is often used to make spring rolls, samosa or rolls with vegetables or egg or chicken or various snack items.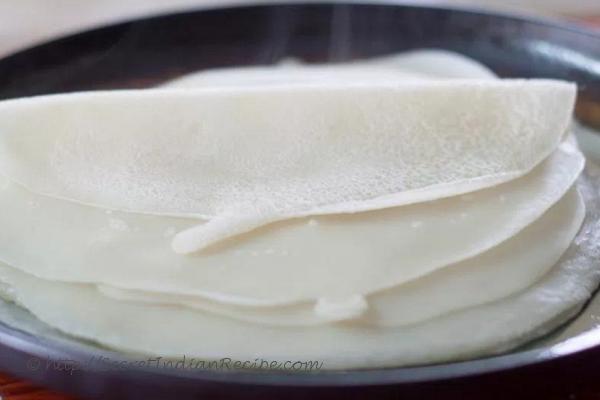 Ingredients:
1 cup All purpose flour/Maida
3 tbsp Corn starch/also known as corn flour in India
1.25 cups water or as required to make a flowing batter with a slight thin consistency
tsp ¼salt
1 tsp to 2oil for making the wrappers
Directions:
In a bowl, take 1 cup all-purpose flour/maida, 3 tbsp corn starch and ¼ tsp salt.
With a wired whisk or a spoon mix the dry ingredients.
Add 1.25 cups water.
Whisk well to a get smooth and slightly thin consistency of the batter without any lumps.
The batter should be of a flowing consistency. depending on the quality of flour, you can add less or more water.
Now on a low flame, heat a non-stick pan. the pan should just become slightly hot and not too hot. you can also use a cast iron or steel pan. but make sure they are seasoned. with a paper tissue or a small piece of kitchen towel dipped in oil, grease the pan. for the non-stick pan you can skip oil. but if you feel the wrappers are sticking then grease or brush the pan with oil.
Now lift the pan above the stove top burner. add 2 tbsp. of the batter in the pan.
Gently, spread the spoon clockwise to make a small thin pancake. similar to the way we make dosa. add 1 to 2 tbsp. more water if the batter becomes thick while preparing the wrappers.
do remember that the pancakes have to be thin. if they become thick, then they break while rolling and sealing.
Now on a low flame cook the pancake till the sides start curling up and the pancake becomes kind of translucent.
The pancake just need to be cooked. no need to flip and cook the other side. just cook one side.
Lift the pancake with a spatula.
Other Indian Recipes that you may Like !