Spring Rolls With Mustard Sauce
The most popular chinese starter @ home, served with Mustard salad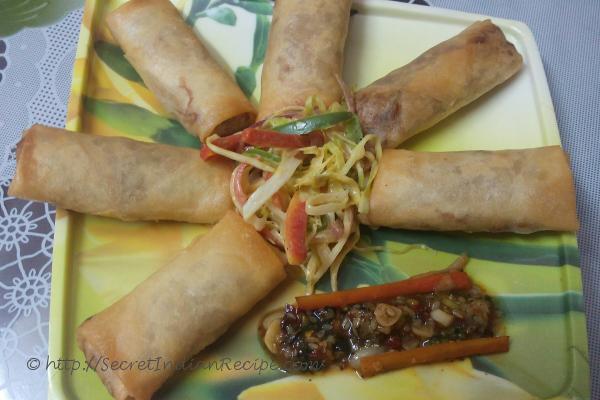 Ingredients:
1. Spring roll sheet – 10 (easily available in market)
2. Cabbage – 1/3 pc
3. Onion – 1 pc
4. Carrot – 1 pc
5. Capsicum (small) – 1 pc
6. Soya sauce – 1 tbsp
7. Vinegar – 1 tsp
8. Chilli sauce – ¼ tsp
9. Black pepper powder – 1/5 tsp
10. Oil – 1 Tbsp + for frying
11. Salt – to taste
12. Corn flour – 1 tbsp
13. All purpose flour (maida) – 2 tsp
14. Water – 1 tbsp or as required to make a thick paste
For Salad
Cabbage – 3 tbsp
Onion – 1 ½ tbsp
Carrot – 1 tbsp
Salt – to taste
Black pepper powder - a pinch
Chilli flakes – few
Mustard oil – ½ tsp
Honey mustard – ½ tsp
Directions:
For Spring Rolls: Take out the spring roll sheets from the freezer and defrost it for half an hour.
In the mean time, cut all the veggies in thin juliennes. Heat a tbsp of oil in a non stick pan. Add carrots and cook it for about 30 seconds and then add the remaining vegetables. Toss all the veggies to mix them well. Cook for a minute.
Add soya sauce, vinegar, chilli sauce, black pepper powder, salt and corn flour. Mix everything well and cook it just for another minute and switch off the flame. Transfer the mixture in a plate and spread it, to cool it down.
Separate the required amount of spring roll sheets with the soft hands and keep it in between two damp clothes. Make a smooth thick paste of maida and water. This is required to seal the spring rolls.
Take a spring roll sheet, keeping 1 of the four points facing towards you. Place a tbsp of vegetable mixture in the middle. Take the edge which is towards you and covering the vegetable mixture, pull it towards you.Then apply the maida mixture on both left and right sides so as to stick it to the middle portion of the roll. After this step it should take a cylindrical shape after joining the 3 sides and a triangular side will only be left to cover.
Apply maida mixture covering the entire triangular area and roll the cylinder shape over this. Spring roll is ready. Repeat the same steps and make all the spring rolls.
Heat the oil. Oil should not be too hot that if we put our spring roll it turns brown in no time. It should be medium hot so that it should fry slowly and properly. Keep on checking the heat, use medium high flame to fry. Put 5 -6 rolls at a time. Do not over crowd the oil. Once spring rolls turn golden brown and crispy, take it out on a paper towel.
For Salad: Cut all the veggies in thin juliennes. Heat oil. Add all the veggies. Toss them together and switch off the flame. Remember it is a salad; we don't have to cook it. Add salt, black pepper and chilli flakes. Toss them. Take out the mixture in a bowl and mix honey mustard. Let it cool down. Salad is ready to serve.
Enjoy delicious spring rolls with homemade salad and sauce.
Footnotes:
1. You can use mayo or any flavour of your choice to make the salad. 2. You can either make garlic sauce, honey chilli sauce or simple chilli tomato sauce to be served with salad. Easiest way is to mix tomato ketchup and schezwan sauce in ratio of 3:1.