Sprouts Salad- Office Lunch
A complete meal for a busy day in office. It is very filling and you can feel fresh for whole day with this.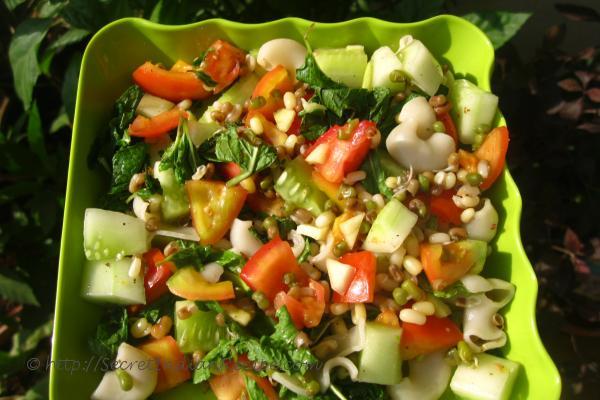 Preparation Time:
soaking time 2 days, cutting 5minutes
Ingredients:
1 Cup Green and Brown Sprouts
1/4 cup Pasta
1 Cucumber- cut in small pieces
1 big Tomato- cut in small pieces
1 tea spoon finely chopped Ginger, Garlic and Green Chilies
1 table spoon Lemon juice
1 tea spoon Chat masala
Mint leaf for garnishing
Salt for taste (optional)
Directions:
Boil Sprouts and pasta together for 5 minutes and drain all the water.
Add cucumber and tomato pieces.
Add salt, lemon juice, chat masala and finely chopped ginger, garlic, and green chili.
Garnish with fresh mint leaves.
Footnotes:
Few dietitians do not recommend adding salt to salad. One may add it for taste