Steam Modak [ukadiche Modak]
Its sweet dish made for lord Ganapati. Its made with rice flour with sweet coconut ,jaggery and nuts filling.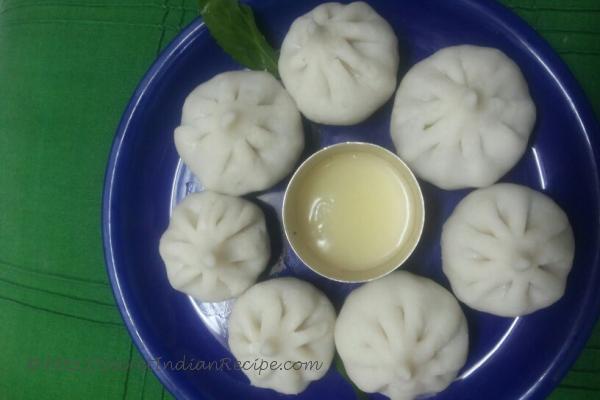 Ingredients:
Coconut fresh grated-100gm
Jaggery-50gm
Sugar-10gm
Roasted Khus khus-15gm
Salt-5gm
Rice flour-250gm
Cardamom powder-5gm
Cashew-15gm
Raisins-10gm
Water- as required
Ghee-15ml
Directions:
Start with making the filling or stuffing.
Take heavy bottom pan.
On medium heat put little ghee
Put grated coconut+jaggery+sugar+cashew+raisin+cardamom powder+roasted khus khus.
Cook it further till water from fresh coconut is evaporated.cool the mixture.
Then start with making the dough.
Take 1:2 ratio of water and flour.
Boil the water, put salt and put the rice flour gradually,[put the gas off while putting the flour]
Make the dough applying ghee on your hands
Cut the dough into portion size.
Make round shape of flat dough and put the filling inside and give the shape of modak,or you can use the modak shaper[available in market]
Pre-heat the steamer.and put banana leaves and apply little ghee on leaves,
Put the modak into the steamer and cook it for 15-20mins.
Serve it
Footnotes:
Use little water on your hand while giving shape for modak.And while making the dough,let the dough cool first.