Steamed Egg Masala
Steamed Egg Masala is a different egg recipe. Usually we use boiled eggs in egg curries. But in this recipe, we steam the eggs initially and then we cut the steamed eggs into small cubes. These egg cubes look exactly like our paneer cubes. So maybe you can try to replace paneer with egg in some paneer curries. Also, when you eat these egg cubes, you can't make out its egg. Kids who don't like eggs can be given in this way and they will never know its egg. My mom is specialist in making non vegetarian recipes & this is my favorite one.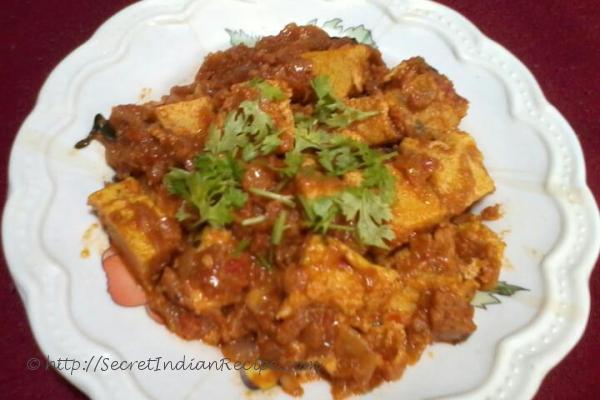 Ingredients:
Onion-1 finely chopped
Tomato-1 finely chopped
Ginger garlic paste-1 tsp
Fennel seeds-1/2 tsp
Cumin seeds-1 tsp
Kashmiri chilli powder-1 tsp
Garam masala powder-1/2 tsp
Tumeric powder-1/4 tsp
Coriander powder -1/2 tsp
Chicken masala powder-1/2 tsp
Coconut paste-1 tbsp
Coriander leaves-few chopped
Curry leaves-few
Salt -to taste
Oil-1 tbsp
Pepper powder -1/2 tsp
4 Boiled Eggs
Directions:
Take a bowl break eggs, add salt, pepper powder, a pinch turmeric powder, 1/2 tsp cumin seeds beat well.
Take a small vessel and coat it with oil. Pour the egg mixture into this. Close this vessel with a lid and place it in the pressure cooker.Pressure cook for about 10 minutes without putting the whistle.(When the steam started coming out, I kept it on medium heat. After 15 minutes, put a spoon and see if it comes out clean).
Meanwhile, you can prepare the gravy. Heat oil in a pan. Add fennel seeds and cumin seeds. When they finish popping, add curry leaves and ginger-garlic paste.Saute for few seconds and add onions. When they turn transparent, add tomatoes and cook till they become tender.
Now add the spices-chilli, coriander, turmeric powder, chicken masala powder and garam masala. Saute well and add a little water so as not to burn the masala. Now add salt and then the coconut paste. Mix well. Add water if you want more gravy.
Cut the steamed eggs into cubes or in any shape as you like. Finally add the cubes into the gravy. Mix well and keep on medium heat for 3-4 minutes. Garnish with coriander leaves. Serve hot with roti / naan/pulav.
Footnotes:
Instead of coconut paste, you can add coconut milk also lo get different taste.
Other Indian Recipes that you may Like !