Steamed Gujiya..
Aaaaha! Lovely!...every time I took a bite of these hot steamed Gujiyas, I kept on repeating these words. Gujiya is anytime mouth watering but when it is hot, it just melts in your mouth. Making Gujiyas is not very easy and it really requires lot of preparation right from grating the coconut, chopping the dry fruits, sautéing them in ghee and of course rolling the puries and filling the stuffing is the toughest part. I guess as it is so painful, my mother used to make it only on Holi. Recently I learned a new way of making gujiyas. The initial preparation is the same, but here I use rice flour, instead of refined flour and it is steamed and not fried. So it has more fibre and less oil. The Brainy Point…..You can make the stuffing and keep in your refrigerator and when you have surprised guests, you can just make the dough and fill the stuffing. Steaming for 15 mintues will get you hot and healthy gujiyas.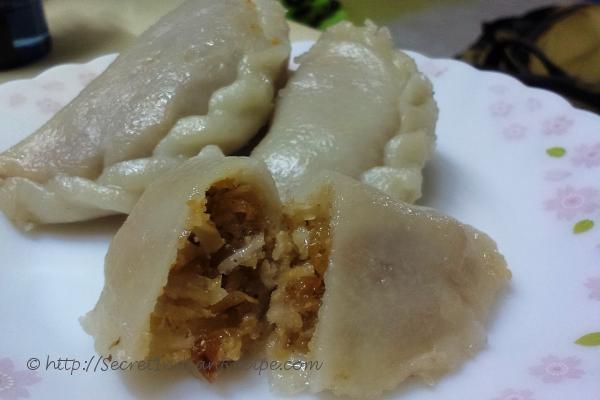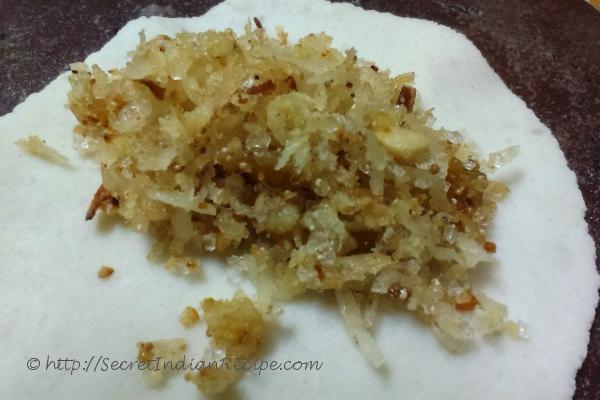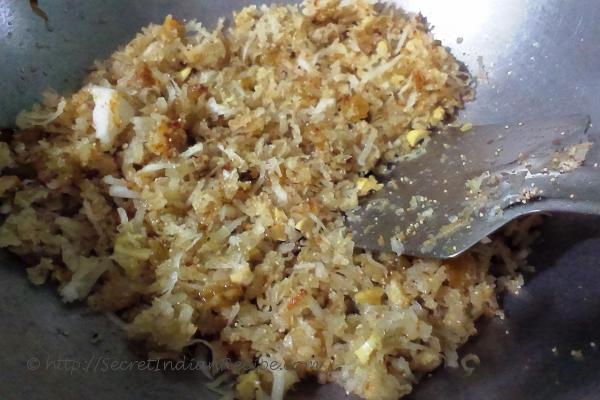 Ingredients:
For Gujiya –
Rice flour – 100 grams
Refined flour – ½ cup
Refined oil - 5-6 tablespoons
Water to make dough.
For stuffing –
Grated coconut – 2 cups
Cashew and Raisins – ½ cup (chopped)
Poppy seeds – 3-4 tablespoon
Ghee – 5 tablespoon
Mawa ( Condensed milk) – 100 grams
Sugar – 4-5 tablespoon
Directions:
To make the stuffing, first heat ghee in a pan. Keep the flame low and begin sautéing the grated coconut. Fry for about 2-3 mintues till they shrink in size and begin to brown a bit. Do this on low flame or else it may burn the coconut.
Now add the chopped cashew, raisins and poppy seeds. Mix and continue to fry for half a minute.
Next goes the Mawa and sugar. Mix all. Please remember if you are using readymade mawa, it has sugar so adjust the sugar accordingly. Once the Mawa and sugar will dissolve, it will make the stuffing easy to bind. Switch off the gas and let it cool.
For the Gujiya, combine rice flour, refined flour and oil together. Now add water slowly and in small quantity and start making the dough. The dough must be soft but not loose as rice flour is less elastic and if the dough is loose, it will be tough to roll them on rolling pin.
Take small portions from the rice flour dough and dust them with some refined flour. Roll small rounds over rolling pin. Keep two spoonful of the coconut stuffing at the centre . Apply a little water on the rim and fold the gujiya into a semi circle. Seal the end either by pressing it or making traditional fold.
Follow the procedure to make the rest of the Gujiyas.
Boil water in a steamer or a large pan. Place the Gujiyas to cook in steam. iF you are using a steamer it may take 15 mintues but if you are steaming it over a perforated plate over a pan, it may take 30-35 Mintues.
To check if the Gijiyas have been cooked properly, do a knife test by piercing it in one of the gujiyas, if it comes out clean, your gujiyas are ready to serve.
Always serve hot for that unforgettable taste.