Steamed Pizza
It was a lazy evening when I was sipping a hot cup of black coffee with memories hovering over my mind thinking about the difference when I was in college and now in the industry. I was amused how far I have improved my skills as a chef. But still with every step I always had scope to grow even more what I use to be in beginning. Every day the new challenges, desire to create something new, to learn more changed me as a person. To top it with cream it gives an immense pleasure when any one ask us about any particular dish and difficult as well when they ask us how to prepare it at home. In a hotel we are equipped with various machines which makes our life easier but the same thing doing it at home give me a headache.
One such evening my mother asked me about pizza and how can we prepare it at home. It took quite a few experiments in getting the procedure right to bake it home. This recipe on the paper seems quite easy but requires some skills to produce the final product on the plate. So here I am with another successful experiment of mine sharing with you all.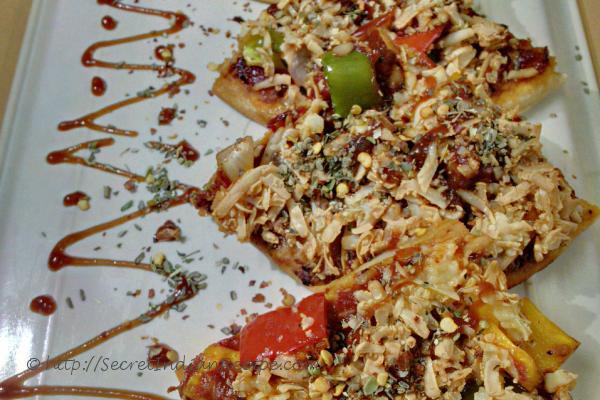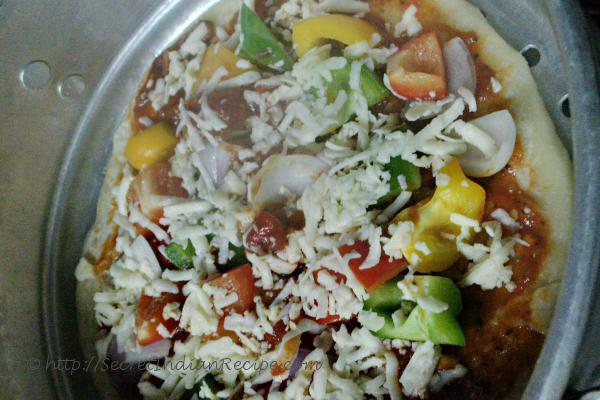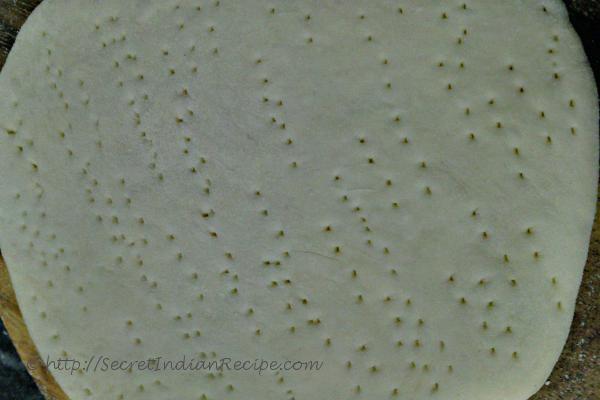 Ingredients:
For pizza dough-
Maida- 500gm
Sugar- 15gm
Salt- 7gm
Yeast- 4gm
Water- 250ml
Oil- 25ml
Baking powder- A pinch
For pizza sauce-
Oil- 2tbsp
Garlic flakes- 10pc
Oregano- ½ tbsp
Finely chopped onion- 1
Crushed black pepper- 1/2 tbsp
Tomato puree- 1cup
Blanched tomato cubes- 4
Vinegar- 1tbsp
Salt- To taste
Sugar- To taste
For topping-
Green capsicum cubes- ½
Red pepper cubes- ½
Yellow pepper cubes- ½
Onion cubes- 1
Butter- 2tbsp
Oregano- 1tbsp
Chilli flakes- As per taste
Grated mozzarella cheese- 50 gm
Directions:
For pizza dough- In luke warm water add sugar and yeast.
Cover it with a wet cloth and keep it at a warm place for 2 min.
Meanwhile collect all the left ingredients in a mixing bowl.
Now add the fermented yeast and make soft dough of it.
Cover with a wet muslin cloth and allow it to prove for 15min in a warm place.
For topping- Heat 1tbsp butter in a pan and toss all vegetables on a high flame for 30sec.
Add oregano and chilli flakes mixing it quickly. Keep it aside.
For sauce- Heat oil in a kadai and add oregano into it.
Now add garlic flakes, chopped onion and stir fry for a min until it becomes translucent.
Add tomato puree and cook until it leaves it raw flavor.
Then add tomato cubes, salt and cook on a medium flame until it melts completely.
Now add sugar, vinegar, oregano and crushed black pepper stirring on a medium flame for 2 min.
Keep it aside.
Now cut the dough in small balls such that after rolling it fits in your momo steamer or pressure cooker keeping in mind that the thickness should be half a centimeter.
Now roll the balls flat and prick it with a fork all over it as shown in picture.
Then braise it a little on tawa over a low flame flipping both sides.
Now brush the pizza base with butter and spread the sauce over it with a spoon.
Top it with the tossed vegetables and sprinkle a little salt on it.
Then spread the cheese over the vegetables.
Now if you want to cook it in a momo steamer then place the base on a steel plate covering it with aluminium foil and then steam it in the steamer for around 10 to 12 min.
If you want to cook it in pressure cooker or a pot you will require a perforated stand of your container size.
Pour water in the container an inch lesser then the length of the stand place the pizza base on the stand and steam it covering the container for 10 min.
Once cooked, sprinkle oregano and chilli flakes. Serve it hot.
Footnotes:
Proving of pizza base is very important and if after proving your dough rises to double of itss original size then your dough is ready.
Make sure you don't over cook the topping vegetables or else it will leave water making your pizza base wet.
The dough will be very sticky therefore while rolling it dust a good amount of flour to avoid sticking.
If you are using a pot for cooking then make sure the water poured in it is lesser by an inch or more so that while boiling the bubbles won't reach the pizza base.
You can add your own topping as per your avalaibility for example-Jalapenos, paneer, brinjal, boiled chicken, tofu etc.