Steamed Scallions Flower Buns
This is an easy recipe and very very satisfying. I love shaping the buns and watching them bloom and grow in the steamer.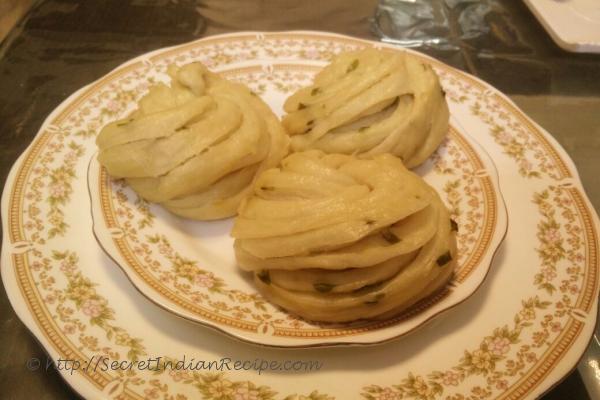 Ingredients:
3 cups Flour
1 cup warmed Milk
1/2 tsp active Dry Yeast
2 tbsp Oil
2 tsp Sugar
5 stalks Scallions, green parts finely chopped
Olive oil for brushing
Salt
Directions:
Mix warm milk, sugar, oil, and active dry yeast together. Let sit for 5-10 minutes, until it is bubbling.
Add in flour and mix until it all comes together. Knead until dough is elastic, smooth, but not sticky. If it's too dry, you may need more milk. Dough should be soft. Place in a greased bowl, cover loosely with plastic wrap and a damp kitchen towel, and place in inactive oven. Let rise for 1 hour.
When dough has risen, punch dough down and shape in balls. Pinch dough into 12 pieces. Roll one piece into a long oval. Using a sharp knife, cut 8-9 slits in the middle, without breaking any edges.
Brush with oil and sprinkle with salt and scallions. Pick up the dough length wise, and use your fingers to twist and shape into a bun.
Heat up a steamer. Steam for 12 minutes, then turn off heat and let it sit for 5 minutes, lid on.
To store, wait for steamed buns to cool down, then place them in either plastic wrap or sandwich bags and stick them in the freezer. Steam or use a microwave (with a wet paper towel) to heat up again.