Steamed Zero Oil Peas Kachori
Koraishutir Kochri or Peas Kachori is a typical breakfast item on winter days in any Bengali household ............ Peas Kachori is fried in gallons of oil ........ but I personally don't prefer oily / fatty food on breakfast or early morning . So I maked the pies kochori in my style is steamed and ZERO OIL .
This mouth - watering , delicious and healthy peas KOCHRI is serve steamed ALOO Ki Sabji and Tomato or peanut Chutney ........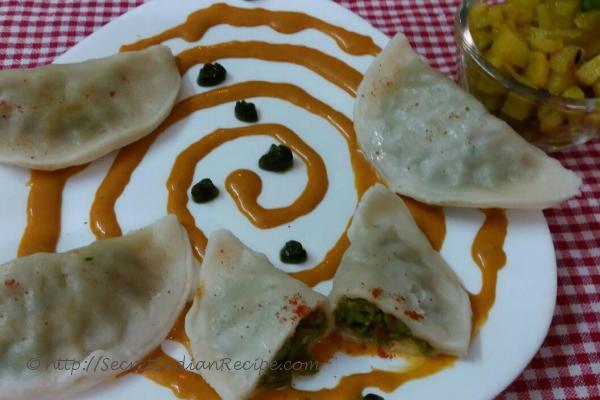 Ingredients:
All purposes flour - 1cup
Baking powder - 1/2 teaspoon
Salt to taste
For filling
Green peas boiled and crushed - 1 cup
Green chilli chopped - 2no
Garam masala powder - 1teaspoon
Chaat masala powder - 2 teaspoons
Tomato sauce - 2 teaspoons
Chopped coriander leaves - 2 tablespoons
Salt to taste
Directions:
Sieve the flour and baking powder together and knead with sufficient water to from a smooth soft dough .
Cover the dough with a damp cloth for half an hour and keep aside .
Take the crushed boiled peas , salt , green chillies , chaat masala powder , garam masala powder , chopped coriander leaves in a bowl and mix well .
Make tiny balls from the dough . Dust with flour and roll them as circles .
Put some pies mixture inside the circles and shapes them like a momo .
Steam cook for 10 - 15 minutes in an steamer .
Serve warm with Tomato and Peanut Chutney and Ziro Oil Steam Potato Sabzi .........