Stir Fried Soya Wrap With Mastani Salsa
The STIR FRIED SOYA WRAP WITH MASTANI SALSA ......... Is very simple and quick and easy dish that I have make it every week in the morning breakfast .
It is highly nutritious and gives you lots of energy . This dish is very unique and lip - smacking .........
Serve the soya wrap along with a glass of Fresh Ginger Lemonade or a cup of Coffee for a breakfast or pack into a lunch box for kids ............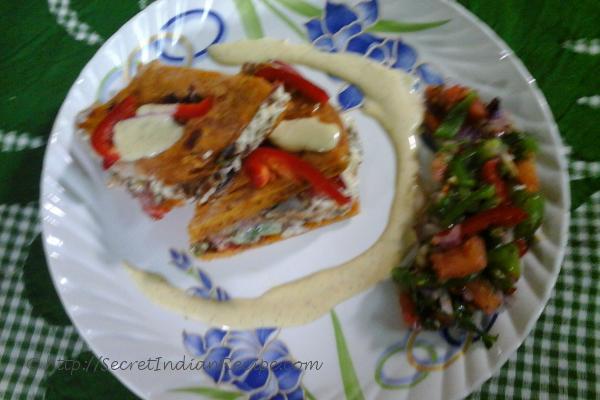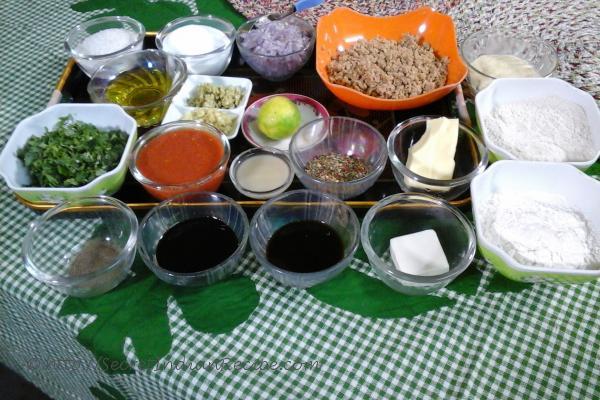 Ingredients:
300 gm cooked boiled Soyabeans Keema
4 Whole wheat ( gehun ) rotis
2 tablespoons Soy sauce
1 tablespoon Dark Soy sauce
4 tablespoon Tomato puree
2 tablespoon chopped Green Chilies
1 tablespoon chopped Garlic
1 tablespoon chopped Ginger
4 tablespoons chopped Onions
4 tablespoons Olive oil
1/2 cup chopped Cilantro
salt to taste and pinch of Sugar
1/2 cup cheddar or grated processed Cheese
For the Mastani salsa ....
2 large chopped smoke Tomatoes
1 large chopped Onions
2 Bell Peppers chopped
2 tablespoon hot sauce
1 tablespoon Olive oil
3 tablespoons of Mayonnaise
1 teaspoon lemon juice
Directions:
Heat oil in a pan add chopped ginger and garlic sauté for a minute .
Add chopped onions and continue to saute on medium heat when it turns golden brown in colours add soya keema and stir fry .
Add tomato puree , soy sauce , dark soy sauce ,salt to taste , sugar and cook till give off a aroma , remove from heat and set aside .
Divided into 4 equal portions .
Place 4 whole Roti's on a clean dry surfaces and spread the stir fry soya keema and cheese on one half of each Roti's and fold it over to make a semi - circle and press it lightly to seal the edges .
Melt 1 tablespoon butter in a pan and carefully place the wrap in the pan and cook , turning once until golden and little bubbles appear on both sides 4 - 5 minutes in all .
For the mastani salsa preparation : - In a deep bowl mix all the salsa ingredient and quick ready mastani salsa .
Cut soya wrap into 4 wedges with a knife and serve with mayonnaise and mastani salsa ............☺☺