Stirfry Vegetables--salad Style
Red capsicum, zucchini and cherry tomatoes are stir fried for a quick salad style preparation, which can be eaten along with main meals, or on its own.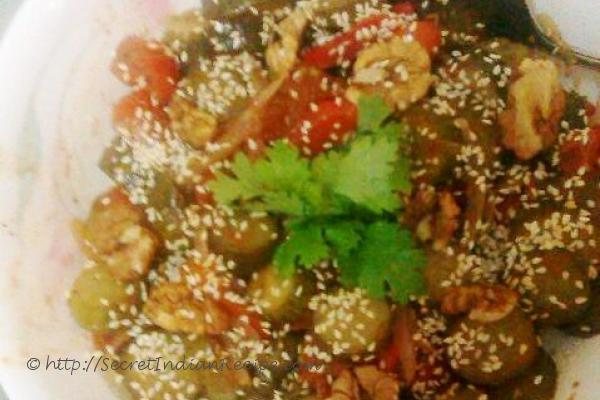 Ingredients:
2 red capsicums
3 zucchinis
1 box of cherry tomatoes
1 big onion
1 tablespoon extra virgin olive oil
1 teaspoon ground black pepper
1 handful walnut kernels
1 tablespoon roasted sesame seeds
Salt to taste
1 tablespoon Balsamic vinegar
Directions:
Clean and cut all the vegetables into small cube shapes.
Heat a frying pan or wok, add the olive oil and thinly sliced onions to let them golden fried.
Add the tomatoes first, sauteing for a few minutes. Then add all other vegetables, black pepper and salt. Let them cook on medium heat for about ten minutes.
Now add balsamic vinegar and walnuts, and increase the heat to high so that the extra water dries up.
Transfer the dish to a serving bowl, and garnish with roasted sesame seeds and coriander leaves.
Footnotes:
It is a healthy salad style dish, prepared very easily any time. I usually pack it to have it with tea in the college, or as a side dish in lunch or dinner at home.