Strawberry Chocolate Chip Mousse
This Strawberry Chocolate Chip Mousse could not be easier to make. It combines just a few ingredients, all layered in a large win glass and served with a dollop of whip cream. Best of all, this chocolate mousse is low in calories but still elegant.
It is simple enough to make any night and fancy enough to serve at a dinner party!
I used fat free sugar free, sugar free pudding and light whip cream but kept in real sugar for extra sweetness. It is a fast and easy dessert that can be made and assembled in less than 15 minutes for a BUSY WEEK night treat. Super low in calories too! The Ghiradelli chocolate chips are a special treat to what looks like a normal mousse. They give a touch of dark chocolate decadence and a nice crispiness to the creamy mousse.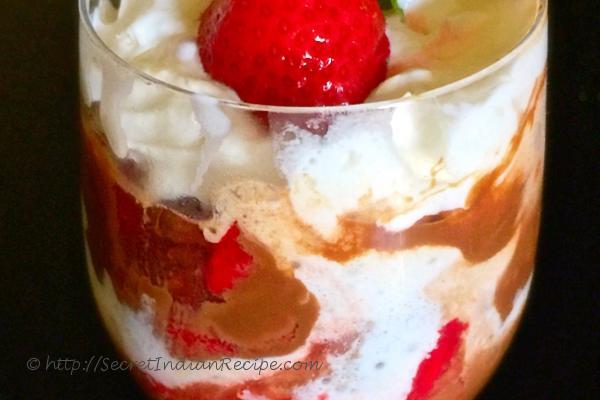 Ingredients:
4 cups of Chocolate Pudding
10 strawberries, quartered
4 tbsp of dark chocolate chips
2 tbsp sugar
Light whip cream
Sprig of mint
Strawberries and chocolate chips to garnish
Directions:
Take 4 cups of chocolate pudding. slice the strawberries and mix with the chocolate chips and sugar. Stir several times over about a 5 minute period. The sugar will make a very slight syrup for the strawberries. Take out the pudding and whisk one more time. Layer some of the pudding, some of the strawberry/chocolate chip mixture, and whip cream topping. Repeat another group of layers. (see note on layering below.) Add a dollop of whip cream, a slice of strawberry, a few chocolate chips and a sprig of mint to garnish.
Footnotes:
This dessert needs to be layered just before serving.
The sugar makes the strawberries form a slight syrup and if made ahead, it makes the pudding too thin.
It only takes few minutes to layer though. Just do prepare the strawberry mix and the pudding earlier in the day. Then layer at dessert time.