Strawberry Murabba (strawberry Jam)
Introduced to India in the 1920s by the British, 85% of strawberries grown in India come from Mahabaleshwar, a hill station near Pune. With only skeletal facilities for refrigerated transport and storage, this highly perishable fruit is harvested before it ripens. That means most of our strawberries are quite tart when we buy them.
Delicious and luscious, fresh strawberries are a delight everyone enjoys. But if you want to enjoy this fruit beyond the season, make a fruit preserve. It is an easy and quick recipe and finds use beyond the regular jam-roll or strawberry jam sandwich; you could even use it to blend a nice strawberry shake or bake strawberry jam stuffed muffins. Jars of jams line the shelves of supermarkets but not only do they contain preservatives but also food color. Most of these chemicals make the jams a tad unhealthy. And since kids in the family are the major consumers of colourful jams, these are best made at home, healthy, safe and chemical free from carefully chosen raw fruits.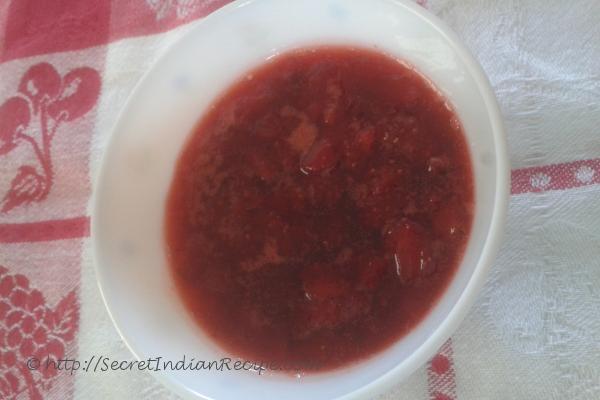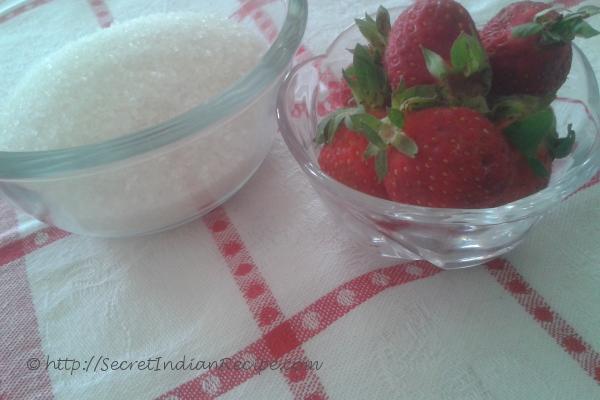 Ingredients:
1 cup chopped fresh strawberries
1 cup sugar
Directions:
Wash and clean the strawberries and leave them to drain on a kitchen towel for an hour.
Chop the strawberries into small chunks.
Transfer the chopped strawberries to pan and add the sugar.
Start cooking and continue to simmer and stir till you get a jam like consistency.
Cool the jam to room temperature and fill in a sterilized glass jar.
Footnotes:
Use clean and dry containers to avoid spoilage.