Strawberry Phirni (strawberry Rice Pudding)
We preserve strawberries in sugar syrup every year before the season ends. This year's season just began so I got some strawberries to make jams and stock some preserve. Recently for diwali I made some gulabi phirni and Sarah my daughter loved it. So I took a little preserve from this time's batch and did this phirni. I added a little food color to make the phirni attractive to Sarah it is only a pinch but. This is actually a filling meal for children because it has rice, milk and fruits not to forget nuts as well.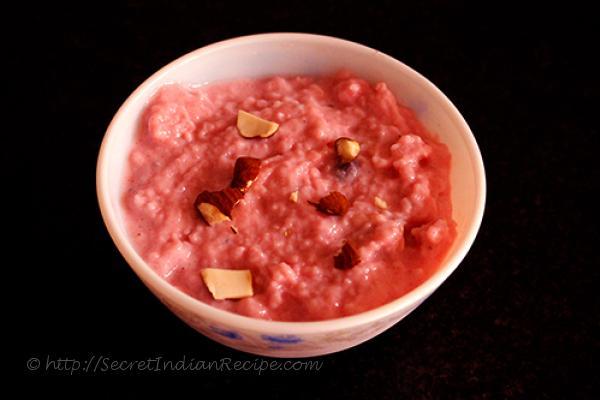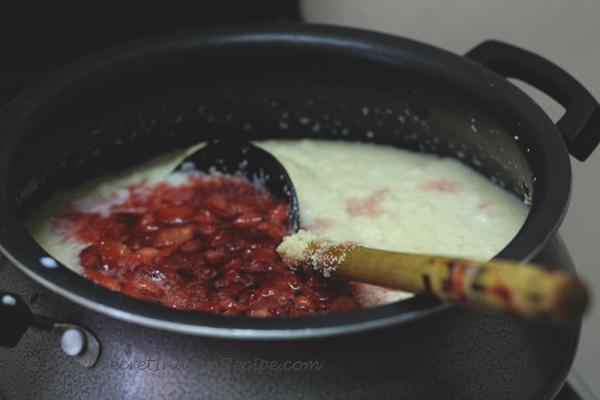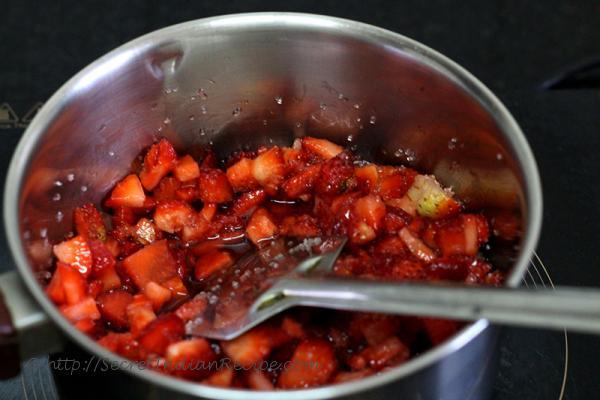 Ingredients:
Strawberries- 200g
Sona Masoori Rice- 1 cup
Semolina- 1/4 cup
Condensed milk- 100 ml
Cardamom powder- 1/4 tsp
Milk- 1 liter
Almonds- 5
Sugar- 3 tbsp
Pink food color- a drop
Directions:
Soak the rice for 2 hours and grind it to a paste. Wash and hull the strawberries. Chop the strawberries finely.
Cook the chopped strawberries with 3 tbsp sugar in a saucepan on medium flame. Keep stirring and very soon the strawberries will break down into a puree.
Heat milk in a wide mouthed vessel and add the ground rice paste and semolina. Keep stirring because otherwise they will tend to become lumpy.
Add the strawberry puree and condensed milk and cook the phirni over medium flame. Keep stirring so that they phirni does not turn lumpy.
Cook for 10 minutes before adding the cardamom powder and food color. Cook further for 5 more minutes from here. Switch of the stove and garnish the phirni with chopped almonds before serving.
Serve chilled.