Strawberry Shrikhand ( Strawberry Flavoured Yogurt)
Flavored yogurt is gaining a lot of popularity these days. I find them over priced considering the fact the store bought ones add preservatives and artificial flavors. The concept of flavoring yogurt however, has been around for long. Shrikand and Mishti doi are Indian versions of flavored yogurt. If planned carefully one can use seasonal fruits to make their own fruit yogurt round the year.This is my version of strawberry shrikhand.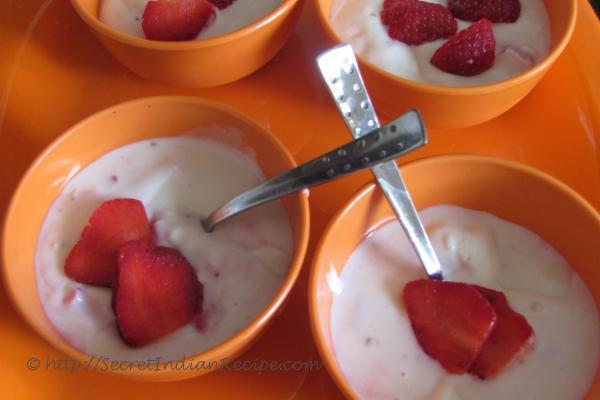 Ingredients:
Strawberries- 200 g
Yogurt- 1/2 kg
Cardamom powder- 1/2 tsp
Powdered sugar- 100 g
Directions:
Hang the yogurt in a muslin cloth till the whey is drained and it gets firm and thick.
Wash and hull the strawberries and leave 4-6 aside for decoration. Puree the remaining strawberries.
Whisk the set yogurt with pureed strawberries, cardamom powder and powdered sugar.
Refrigerate the yogurt for 5-6 hours. While serving in bowls decorate with sliced or whole strawberries- the ones reserved for decoration.