Strawberry Sweethearts Cocoa
It's a simple melted ice cream cocoa, served in chocolate - dipped mugs for an extra - special treat for your loved ones.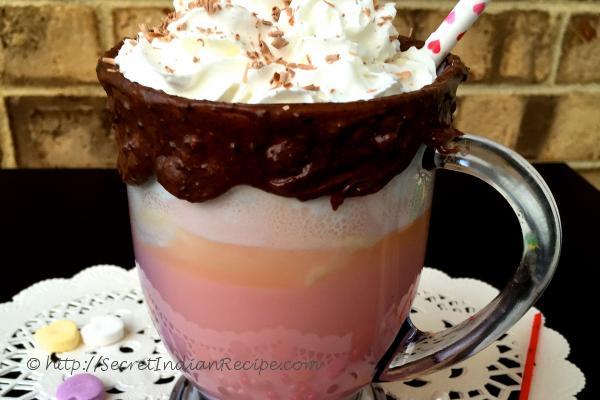 Ingredients:
1 Tablespoon Butter
2 teaspoon Sugar
2 Scoops of Strawberry Ice Cream
1 cup Water
Whipped Cream
1/4 cup White Chocolate Chips
1 teaspoon Chocolate Sprinkles
A Chocolate Bar
Directions:
In a medium sized bowl, melt the chocolate bar and dip the top of the mug into the chocolate. Set aside, allowing chocolate to harden. In a medium pot, whisk together the butter, sugar and ice cream over medium heat until melted. Whisk in the water, until your flavor/texture is achieved. Now add the white chocolate chips and give it a stir. Pour into the chocolate - rimmed mugs. Garnish with a dollop of whipping cream and sprinkle some chocolate sprinkles. Serve it with your favorite bit - sized cookies for dipping.