Stuffed Bitter Gourd Fry
Bitter gourd is healthy, but the main reason many avoid this due to it's bitterness. Bitter gourd and its seeds are used to make medicine. Bitter melon contains a chemical that acts like insulin to help reduce blood sugar levels. We can prepare some tasty recipes with bitter gourd and one among them is stuffed bitter gourd.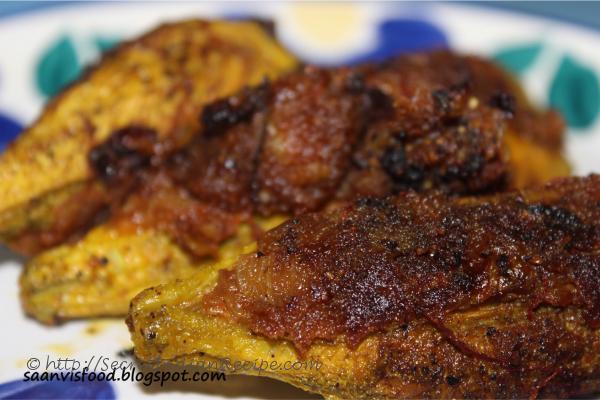 Ingredients:
Kakarakayalu /Bitter gourd - 4 (small size)
Small Onion - 1
Pallilu / Peanuts - 3 tsp
Red chilli Powder - 1 tsp
Sugar - 1/4 tsp
Salt to taste
Oil - 2 to 3 tsp
Directions:
Wash and cut the edges and slightly or completely peel rough surface of kakarakayalu / bitter gourd surface and make a slit length wise and remove seeds.
In a pot boil water with 1/4 tsp turmeric, 1/2 tsp salt and small marble size tamarind, add bitter gourd to the boiling water and cook for 8 to 10 min. This step is to get ride of bitterness.
While cooking bitter gourd, in another pan dry roast peanuts and let them cool and grind them into powder.
In the same pan, heat 1 tsp oil and fry onion till they turn brown. Add salt to onion to speed up the cooking process. Add red chilli powder,turmeric powder and fry for a min.
Now mix onion, ground peanut powder, sugar and adjust salt.
Now stuff the onion mixture into the bitter gourd and tie with thread
In a pan heat 2 tsp oil and fry stuffed bitter gourds on medium heat with lid on until they turn brown on all sides. If need add oil in between. As we boiled bitter gourd, it will take less time for frying.
serve with rice.