Stuffed Bitter Gourd With Prawns
This is a dish that's not for the faint of heart. The bitter gourds are well, bitter and the masala I use to stuff it has the world famous Recheado Masala in all it's fiery red glory. This dish is a labor of love as well, as you have to be very gentle while processing the Karelas. Slide the knife in halfway through and make a slit lengthwise. Gently scoop out the insides with your fingers. There. Easy Peasy!
Recheado masala is one thing that any good Goan household will have on hand in a pinch or have the raw material to whip it up. Fiery red and vinegary, this masala really hits the spot when you want to feel that warm heat in your belly :)
I hope you try this recipe and enjoy it with your family :)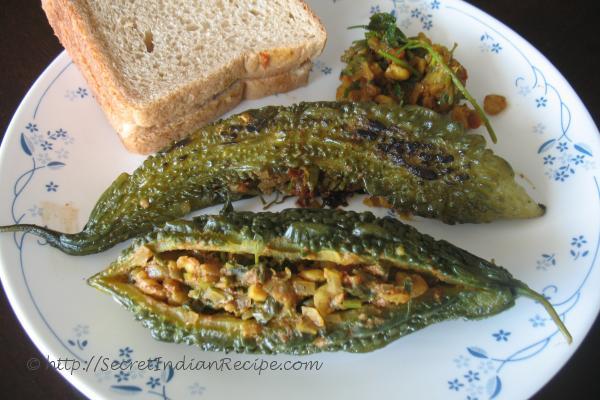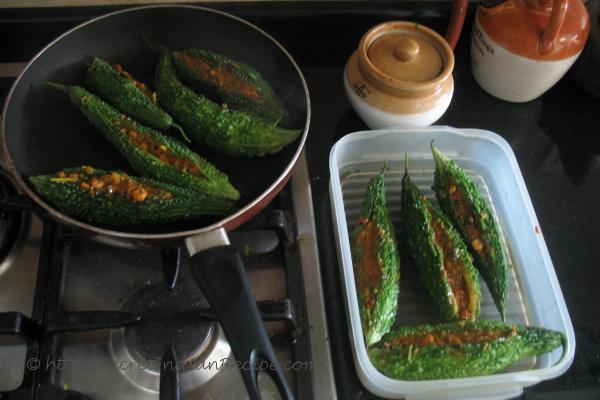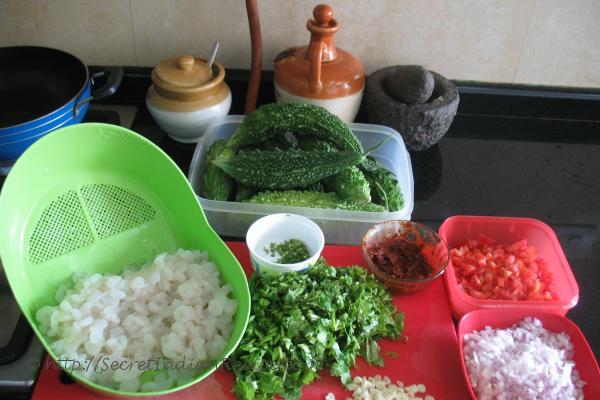 Ingredients:
10 Karelas, Slit lengthwise and seeds removed
1/2 kg Prawns
2 large Onions, chopped fine
2 large Tomatoes, Chopped fine
1/2 bunch of Coriander leaves, chopped fine
8 cloves of Garlic, Chopped fine
2 tbsp of Rechaedo Masala
For the Recheado Masala:
20 Kashmiri Chillies, washed
15 Garlic pods
6 Cloves
1/2 tsp Jeera
1/2 tsp Mustard
1/2 tsp Peppercorns
A small ball of Tamarind
1/2 inch Ginger
1/2 inch Cinnamon
2 tbsp Sugar
Directions:
Grind all the ingredients for the masala and keep it aside. Salt the processed Karelas and wash them in 10 minutes.
Fry off the Garlic, Onions, tomatoes and recheado masala. Add the prawns and fry too.
Salt to taste. Turn the fire off and add the Coriander leaves.
Take a Karela and gently stuff it with this mixture. You can tie the karelas with a bit of string, but I don't do that.
Put some oil in a pan and fry the Karelas till they are lovely and brown on the outside.
Enjoy!