Stuffed Bitter Gourd Recipe
Bitter gourd is a good source of vitamin B 1, B 2 and B 3 as well as magnesium, and zinc. Add it to your daily cooking to control your blood sugar and skin care.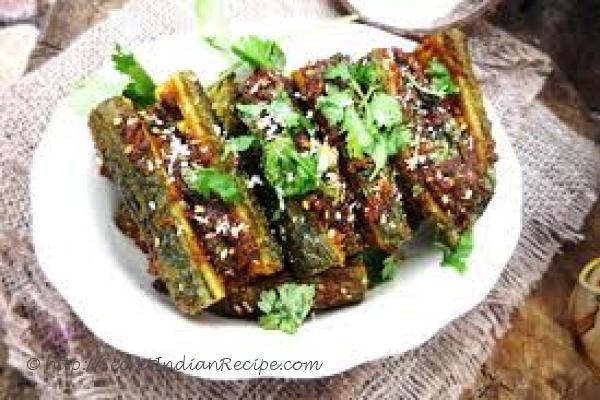 Ingredients:
Large size Bitter Gourd – 8
Homemade Paneer - 1 large cup
Grated Coconut – ½ cup
Poppy seed paste - 3 tbsp
Red chili powder – 1 tsp
Ginger strips – 1 tsp
Garam masala powder – 1 tsp
Chopped fresh coriander leaves 1 tbsp
White sesame – 2 tbsp
Turmeric powder 1 tsp
Mustard oil – 2 or 3 tbsp
Salt to taste
Directions:
Peel off bitter gourd and soak in water added with salt and turmeric for 1/2 hour.
Chop off head and tail portion of each bitter gourd with a sharp knife. Bring out seeds and make a pocket inside it by the same knife, you can use spoon also.
In a pan roast sesames transfer into grinder to get a fine paste, you can use milk to get a rich sesame paste.
Add 1 tbsp oil in same pan, add poppy seeds paste, sesames paste, red chili, turmeric powder one by one
Add paneer, coconut and stir well. Season with salt, garam masala powder and ginger strips. When the mixture will be dry, transfer in a board tray so that it quickly comes to room temperature.
Stuff the mixture in side bitter gourd.
In a grill pan roast bitter gourds or keep in microwave oven for 8 minutes in grill mode Garnish with coriander leaves and coconut.
Footnotes:
Posted by Tapashi Dey Food Writer & Blogger Visit my facebook page