Stuffed Brinjal
It is a North-Indian Dish.A Dish full Of Nutrients.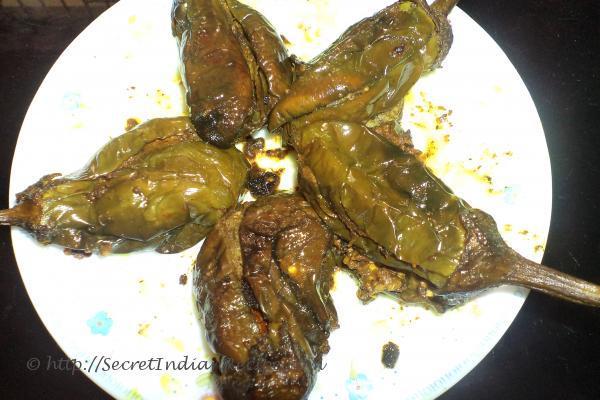 Ingredients:
Brinjal-250gm
Oil - 2 table spoon
Fennel Powder-1/2 tablespoon
Carom seeds - 1/2 tablespoon
Salt-to taste
Red chili powder - 1/4 tablespoon
Mango powder - 1/2 tablespoon
Onion seeds / nigella - 1/4 tablespoon
Directions:
The Stuffing:- To prepare the stuffing add salt,fennel Powder,niggela,Fenugreek Seed,Mango Powder & Red Chilli Powder and prepare a Mixed Powder from the spices for Stuffing. keep aside
Wash brinjals nicely , cross cut it.
Stuff the mixed spices in the cross cut sections , after stuffing keep the brinjals aside.
Take a frying pan pour 2 table spoon and heat it up , after oil gets heated up place the brinjals in the pan , wait till a side of it become brown , turn them time to time while they are cooking.
Once the brinjals are done, take them out in a plate and serve.
Footnotes:
do not deep fry them otherwise the stuffing will spread in the oil.