Stuffed Half Moon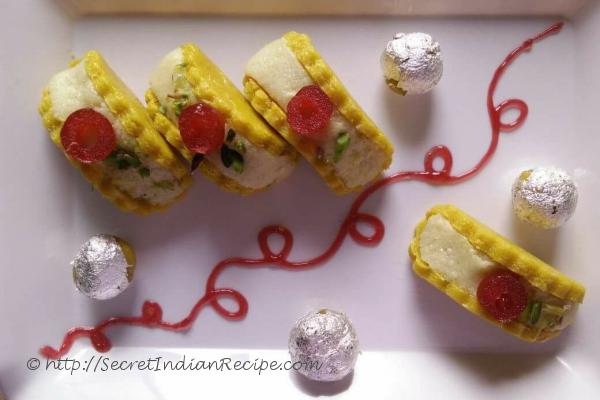 Ingredients:
For kaju katli - 110 gm Cashew Powder
15 gm Oat flour
Pinch of saffron
Few drops of Saffron colour
2-3 drops of Rose essence
50 gm Water
75 gm sugar
For stuffing:
1/4 cup water
30 gm Desiccated Coconut
80 gm crushed Paneer
3 tbsp Milk pwd
1 tbsp Cashew pwd
1 1/2 tbsp Oat flour
1 tbsp Sugar
25 gm melted White chocolate
Directions:
For stuffing: Heat water in a pan add coconut and paneer , cook for 2-3 mins. Add milk pwd, cashew and Oats pwd, mix well. Now add sugar and chocolate and mix well. It will be a semi soft dough. Keep aside to cool.
For kaju katli Heat a pan, add water and sugar and let it boil till the two thread consistency. Switch off the flame and add soaked saffron and colour, now add the oats and cashew pwd, mix vigorously till you get the dough like consistency.
Grease your hands and the rolling pin for easier rolling. Place the dough on a sheet of wax/ butter paper and roll out to the desired thickness. Cut the rolled out dough into circles with the cookie cutter or into your desired shape.
While it's still warm, gently shape each circle in to half moon. Spoon in some of the filling. We can give different shapes to it.Garnish with silver leaves and strawberry. Serve with the bowl of thickened milk (rabri).