Stuffed Idli Pakodas
You can make these pakodas with leftover idli. This recipe is very easy and you can make it anytime at your home. #ChaiFingerFood Contest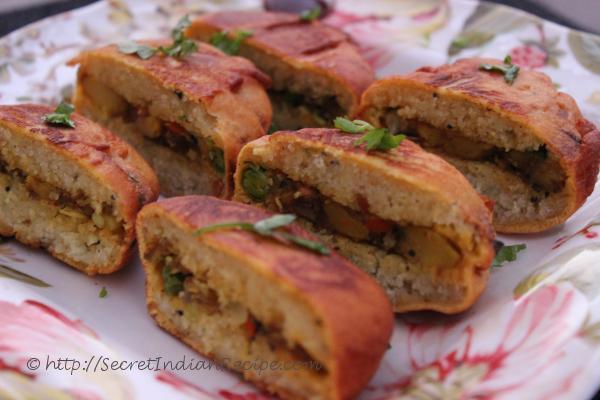 Ingredients:
Idli - 10
Onion – 1 (chopped)
Cumin Seeds – ½ tsp
Green Bell Pepper – 1 (chopped)
Green Peas – 3 tbsp (frozen)
Carrot – 3 tbsp (chopped)
Beans – 2 tbsp (chopped)
Cabbage – 2 tbsp (shredded)
Potato – 2 (boiled and mashed)
Salt – to taste
Green Chillies – 2 (chopped)
Black Pepper Powder – ½ tsp
Few Coriander Leaves – Chopped
Lime Juice – ½ tbsp
Turmeric Powder – ½ tsp
Oil – 1 ½ tbsp + Oil to deep fry
Besan – 2 Cup
Directions:
Heat oil in a pan and add cumin seeds. Once cumin seeds starts crackling add chopped onions and saute until translucent.
Add all chopped vegetables except potato. Saute for 8-10 minutes or until they are cooked.
Add turmeric powder, salt, green chillies, black pepper powder, lime juice, boiled potato and coriander leaves. Mix well and saute it for another one minute.
Slice each idli from the centre into two halves Spread the mixture on one half and cover it with the other half.
Do this with rest of the idlis and keep them aside. Now make a batter of medium consistency using gram flour, salt and water
Heat oil in a kadhai. Now dip the stuffed idli one by one into batter and deep fry until golden brown and crisp. Keep them on a paper towel.
Cut the idlis into half and serve hot with any sauce or chutney.