Stuffed Karela( Stuffed Bitter Gourd)
This is a delicious and low fat stuffed bitter gourds (karela) recipe which is going to appeal to all. The spicy onion masala stuffing in the slit karelas or bitter gourd work wonders and is best enjoyed with paranthas.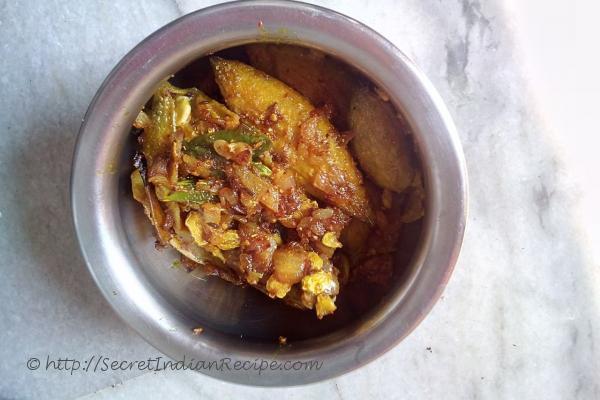 Ingredients:
4 Bitter gourds
1 large sized Onion, finely chopped
1 Green chilli, finely chopped
1/2 piece of Ginger (adrak), finely chopped
2 cloves of Garlic (lehsun), finely chopped
1 tbsp chopped Coriander (dhania)
3 tbsp Oil
2 tsp Besan (Bengal gram flour)
1/2 tsp Chilli powder
4 tsp Salt or to taste
1 tsp Coriander (dhania) powder
1/4 tsp Turmeric powder (haldi)
1/2 tsp Dried Mango powder (amchur) and 1 teaspoon of lemon juice
1/8 tsp Cumin seeds (jeera)
A pinch of Asafoetida (hing)
Directions:
Wash karela thoroughly with water. Remove skin of all the pieces by scraping.
Keep the skin aside and add salt and keep it aside. slit the karela length wise. Remove the seeds. discard the seeds if very hard, otherwise mix them with the skin scrape.
Take 1 tsp salt and apply it thoroughly to all the pieces of karela. keep aside for about 1 hour.
Add oil in the pan when the oil becomes hot, add cumin seeds and hing. when the seeds becomes dark, add onion, green chili, ginger and garlic. cook for 2-3 minutes and add all the spices along with besan. stir well and cook until the mixture turns light brown, about 5-7 minutes.
Take the karela skin in a sieve and wash thoroughly with water. add it to the washed skin scrape above mixture and stir.
Wash the karelas with water. fill the above mixture in each karela .
Heat a non sticking frying pan and spray oil. place all the karelas in the pan, cover with a lid and reduce the stove to low. let them cook for 5-7 minutes. change the side of karelas and again cover with the lid.
The stuffed karela is ready to be served either with Roti or Rice.