Stuffed Mushroom And Cheese Pakoras
Tea- time is a tradition by itself in India, wherein all members of a family gather together for a brief respite from their busy chores.The accompaniments differ from region to region giving rise to a multitude of snacks that adds colour to our food culture.The below recipe is one of Mom's favourites for Chai-biscuit time. Hope you have as much fun as we have had on this secret recipe!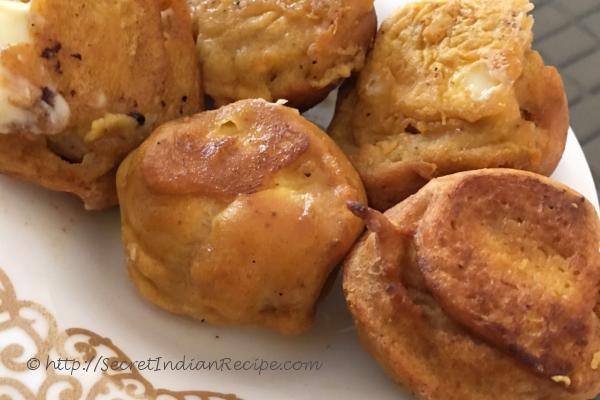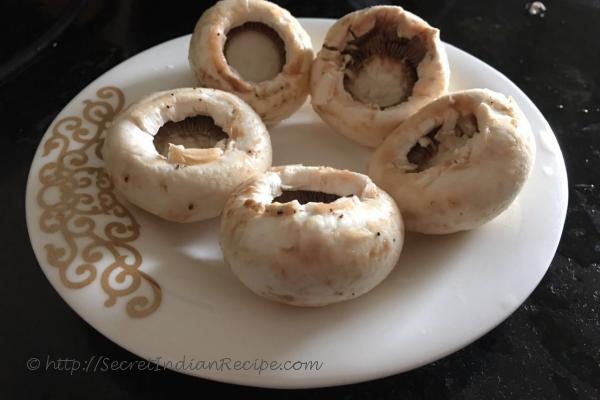 Ingredients:
4 big button Mushroom
2 Tbsp grated Cheese (I made with regular cheese/ Mozzarella or Pizza cheese would be a viable option as well.)
Half cup Chickpea flour (Besan)
¾ Tsp each of Tumeric, Coriander Chilli powder
Salt to taste
1 tsp Ginger Garlic paste
1 tsp fresh Green chilli cut finely
1 tsp Raisins-optional (cut finely)
Oil for frying
Directions:
Wash the mushroom and take the stalk off them to create a cavity for the stuffing.
In a bowl mix the grated cheese, finely cut chilli and raisins and divide into four portions.
In a separate bowl take the besan and add salt, turmeric, chilli powder & coriander powder. Add the fresh ginger garlic paste and enough water to make a thick paste. Ensure that the paste is thick flowing consistency, else add a little more besan to the same. The cheese needs to be coated well else it will splatter in the pan.
Heat oil for frying in a heavy bottom pan and set on medium temp.
Fill the cheese and raisins mixture inside the Mushroom and dip in the besan mixture to coat from all sides. Fry till golden brown and serve Hot.
Garnish with Coriander leaves and serve with hot tea.