Surali Wadi (khandvi) #holirecipe
#HOLIRecipe
Surali Wadi (Khandvi) also known as Patuli, Dahivadi or Suralichi Vadi is a savory snack in Maharashtrian cuisine as well as in Gujarati cuisine.It consists of yellowish, tightly rolled bite-sized pieces and is primarily made of gram flour and yogurt.
Khandvi is commonly eaten as an appetizer or snack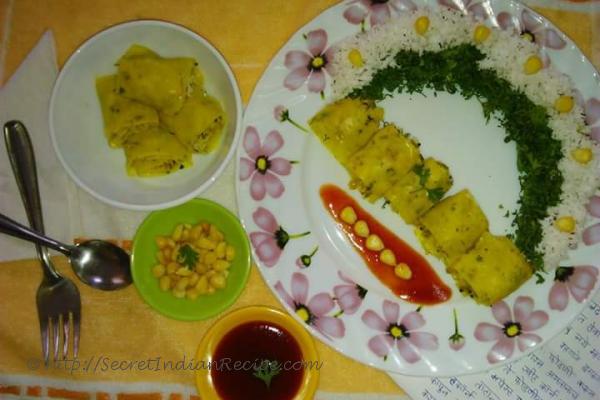 Ingredients:
buttermilk 1 cup
water 1 cup
gramflour 1 cup
salt as per taste
turmeric powder 1 to 2pinch
sugar 1 tea spoon
green chilli paste as per taste
oil 2 teaspoon
mustard seeds 2 to 3 tea spoon
cumin seeds 2 to 3 tea spoon
curry leaves 10 to 15
coconut 1 bowl
corainder 1/2 bowl
Directions:
Take buttermilk,water,gramflour in bowl.
mix all these ingredients uniformly
add sugar ,salt,turmeric powder,green chilli paste to above mixture.
now keep this mixture for cooking on medium gas.
keep stirring continously and cook for 10 to 15 mins.
take this mixture and greece thin layer on plate.
make tadaka using oil,mustard seeds,cumin seeds and curry leaves.
pour this tadaka on greeced plate and also pour some coconut and finely chopped coriander.(optionally you can pour masala sweet corn as shown in the picture.)
cut this mixture column wise and roll it
And now serve these roll with tomato sauce.
Footnotes:
keep stirring otherwise mixture contains small dough.