Suraliche Vadi ( Maharastrian Spin Roll)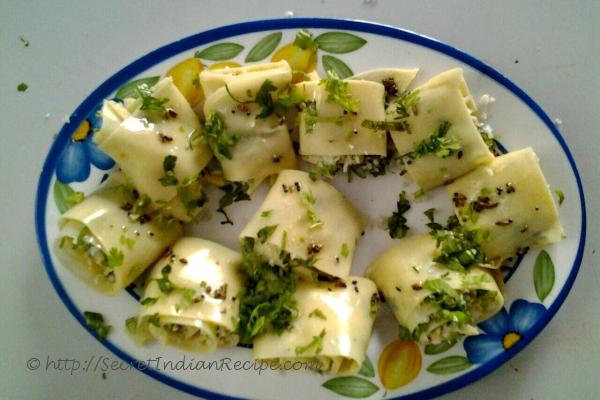 Ingredients:
Bengal gram flour ( Besan) - One cup
Refined flour ( Maida) -One teaspoon
Butter Milk - One cup
Asafoetida ( Hing ) -1/4 teaspoon
Turmeric powder-1/2 teaspoon
Water- two bowls
Ingredients for Spread Dressing
Fresh Grated coconut- One bowl
Crushed green chillies- 4 to 5 chilles
Finely cut corriander - one bowl
Salt as per taste
Directions:
Mix Bengal gram flour ( flour of chana dal ) Refined flour ( Maida ) butter milk & water thoroughly to get homogeneous semi- liquid mixture and salt ( as per taste ) Asafoetida ( Hing ).
Pour the mixture in frying pan ( kadhai ) heat it on gas stove for 7 to 8 minutes & keep stirring the mixture till it turns to a dough.
Take it out on flat plate and roll it with rolling pin (you can do this with spatula also cut dough in to 7 to 8 strips.
To make spread dressing mix the ingredients mentioned. lay the spread on these strips evenly. Roll each piece of strip into a circular vadi.
Heat a teaspoon of oil and season it with cumin and mustard seeds. Pour it over the vadi and serve hot.