Rhomesecret Recipe: Surmai Kaalvan ( King Fish Or Surmai Curry )
Surmai Kaalvan or King Fish Curry is a popular fish Curry preparation made in a Chandraseniya Kayastha Prabhu home. The community is believed to have migrated over centuries from the north with its roots in kashmir and have largely settled in Maharashtra along the konkan belt. Mutton and fish are their favourites and use of poppy seeds or khus khus, fennel seeds, coconut , coconut milk ,tamarind or kokum is found liberally in their cuisines. While there is a slight difference to their way of preparations from the other maharashtrian communities where generally the fish curry is made first and then the fish is put in the curry to cook, here the fish is sauted in oil first with the green vatan that is green masala and other ingredients and while it cooks and changes colour the coconut milk is added later into it to form its curry.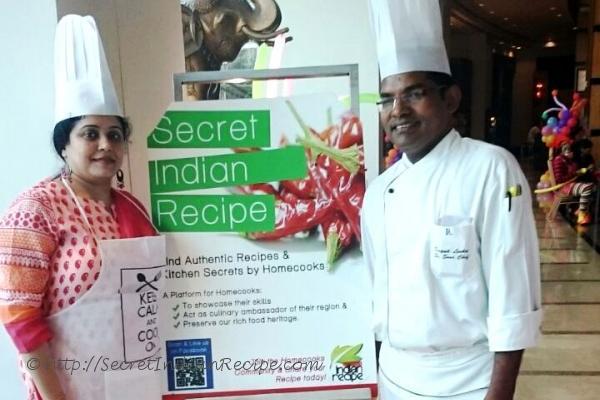 Ingredients:
4 medium pieces of Surmai or King Fish
1 tbsp Oil
Coconut milk made out of 1 to 1.5 cups scraped & grated coconut
1 tbsp tamarind pulp
2-3 flakes of garlic slightly pounded for tempering
1/2 tsp turmeric powder
2-3 tsps red chilli powder
Salt to taste ( appx 1 tsp)
a pinch of asafoetida
Coriander leaves for garnish
Directions:
Green masala Paste or Hirva Watan : Make paste of 5 flakes of garlic,1 inch ginger,2 green chillies,coriander leaves with very little water.
Method : Clean and wash the fish pieces and apply salt , turmeric pwd, chilli pwd , green masala paste and half of the tamarind paste to it and keep aside.
In a flat bottomed vessel, heat oil and add 2-3 flakes of pounded garlic and temper until it changes colour to slightly reddish black. Add a pinch of asafoetida.
In it add the remaining tamarind pulp, marinated fish pieces , its water and little water if required and cook the fish on a high flame without covering or touching the fish to avoid breaking.
Move the vessel to stir if required but avoid touching the fish pieces.
Once the fish starts changing colour and is getting cooked, add the coconut milk to it and bring it to a boil.
Do not cover. Switch off the gas and garnish with chopped coriander leaves.
Footnotes:
Tamarind needs to be soaked in water and kept to extract its pulp
Coconut milk can be extracted by adding grated coconut and water in a blender and then strained . this is the first thick extract . the second thin extract is made by further adding the strained coconut with slightly warm water and blending to derive a second thin extract. If unable to extract fresh coconut milk use tinned or coconut powder to make it.
Instead of plain chilli powder, the CKP's use their home made chilli powder which is pounded and stored for the year and contains a mix of red chillies, coriander seeds and fennel seeds.
Other Indian Recipes that you may Like !